>

MA-Program International Administration and Conflict Management
International Administration and Conflict Management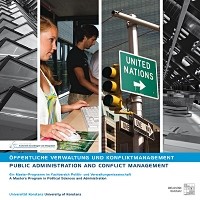 How is one to manage international political conflicts such as those which arise in the Horn of Africa? How do international interventions come about, and how is one to deal with the complexity of large international administrations and local conflict dynamics in realizing peace missions?
This master's program enables its students to conduct political-scientific analysis of international conflicts and to manage complex international organizations.
The twelve students admitted each year profit from numerous exchange opportunities with top international universities and a large pool of internships in international organizations.
The curriculum of the program "International Administration and Conflict Management" will be supplemented with contributions by highly qualified practitioners and internationally-renowned guest scholars.