The End of Negotiations?
29. September 2019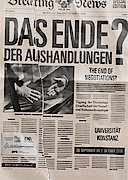 Conference of the German Anthropological Association (GAA)
Over the last decades, it has become a conceptual premise of most anthropological work that constructions of reality and ascriptions of meaning are socially negotiated. However, what it actually means to "negotiate" something (in German: etwas aushandeln) is only rarely spelt out. Indeed, the origins of this notion in the history of scientific ideas typically remain just as implicit as an answer to the question of what characterizes this specific form of socio-cultural practice. Even if there appears to be agreement that "negotiating" implies the co-existence of heterogeneous views of the world, and that it also articulates the assumption that reality is 'made' interactively rather than merely discovered by people, such a conceptualisation risks rendering social negotiation a mere place holder for vague ideas about the social coproduction of reality. The conference aims to explore the potential and limitations of what is meant by the notion "to negotiate" by engaging empirically with the varied range of thematic and regional interests in anthropology. It thereby relies on the double semantics of the conference title by asking about, on the one hand, what is perceived as 'non-negotiable' by social actors in certain situations and contexts – whether for strategic reasons, based on ideological convictions, or out of lifepreserving necessity. On the other hand, it also aims to explore those practices that bring the potentially unending dynamics of social negotiations to a closure – even if this is only provisional, and might later be revised and thus put into question.
Sun-Wed, 29 September-2 October 2019
University of Konstanz, Room tbc.
Contact
Thomas Kirsch thomas.kirsch[at]uni-konstanz.de
---