>

Home

>

Dr. Paula Bialski
Dr. Paula Bialski
Vita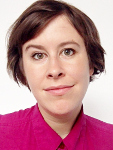 2016–2017 Fellow at the Institute for Advanced Study Konstanz, University of Konstanz
since 2013 Research associate, Digital Cultures Research Lab (DCRL), Centre for Digital Cultures, Leuphana Universität Lüneburg
2012–2013 Research associate, HafenCity Universität Hamburg
2012 PhD: "Becoming Intimately Mobile", Prof. John Urry and Prof. Monika Buscher, Lancaster University, Department of Sociology
2010–2011 Lecturer, Department of Cultural and Media Studies, Warsaw School of Social Sciences and Humanities (SWPS)
Research concentrations
Sociology
Media Studies
Ethnography
Organizational Ethnography
Infrastructure Studies
Ausgewählte Publikationen
Bialski, Paula. 2016. Train Ticket Sharing: Alternative Forms of Computing in the City. "Computing the City." The Fibreculture Journal Special Issue. (im Erscheinen).
Bialski, Paula. "On Knowing Too Much: Technologists' Discourses Around Online Anonymity." In Non-Knowledge. Lüneburg: Meson Press, 2016 (im Erscheinen).
Bialski, Paula. "Mobility, Media, and the Experiencing of Airbnb's Aesthetic Regime« Experiencing Networked Urban Mobilities", in K. Petersen/E. Fjalland/M. Freudendal-Pedersen (Hg):. London: Springer, 2016 (im Erscheinen).
Bialski, Paula. "Home for Sale: How the Sharing Economy Commodifies our Private Sphere" In A. Ince/S. Hall (Hg.): Sharing Economies in Times of Crisis: Practices, Politics and Possibilities. Frontiers in Political Economy. London: Routledge, 2016 (im Erscheinen).
Bialski, Paula. "Authority and Authorship: Uncovering the Socio-Technical Regimes of Peer-To-Peer Tourism" in A. Russo/G. Richards (Hg.): Re-Inventing the Local In Tourism. Bristol: Channel View. pp. 35-49, 2016.
Paula Bialski/H. Derwanz/B. Otto/H. Vollmer (Hgs.). "Saving the City: Collective Low-Budget Organizing and Urban Practice" ephemera: theory & politics in organization, 15(1), 1-19, 2015.
Bialski, Paula. "Online to Offline Social Networking: contextualizing sociality today through Couchsurfng.com" in D. Picard/S. Buchberger (Hg.): CouchSurfng®: Tourism, Cosmopolitanism and Computer Mediated Hospitality in the Early 21st Century. London: Ashgate. pp. 161-172, 2012.
Bialski, Paula. Becoming Intimately Mobile. Frankfurt: Peter Lang, 2012.
Bialski, P./Batorski, D. "From Online Familiarity to Offine Trust: How a Virtual Community Creates Familiarity and Trust Between Strangers" in P. Zaphiris/C. S. Ang (Hg.): Social Computing and Virtual Communities. Boca Raton: Chapman & Hall. pp. 179-204, 2010.
Bialski, Paula/Gill, N. 2011. New Friends in New Places: Network Formation During the Migration Process Among Poles in the UK. Geoforum 42:2. pp. 241–249.