>

Home

>

Insight

>

Bunke: Don't lose sight of the big picture
Don't lose sight of the big picture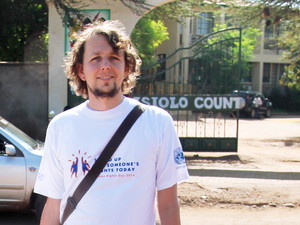 What did you investigate in your dissertation?
I was fascinated by the question of what happens when Western UN concepts, as they are used, for example, in discussions about human trafficking, are introduced into countries of the Global South. What happens when global-political ideas are suddenly supposed to be implemented on the ground? I used human trafficking as an example, but the actual issue was global connections.
To what extent did this issue motivate you to apply as a development worker with the World Peace Service?
In my opinion we still think far too little about global networking. How we act here in Germany has worldwide effects, even on sub-Saharan Africa. I wanted to investigate this interaction, what the consequences are and where they come from. Many conflicts that I am currently experiencing here in Kenya have their roots in the colonial era. For example, the land conflicts that are widespread in Kenya between different ethnic groups can be traced back to confiscations and resettlements under British colonial rule. Even today the privileging of certain ethnic groups during the colonial era has contributed to the repeated emergence of particular political conflicts.
Immediately after my PhD I wanted to contribute not only theoretically, but also to work practically against abuses and inequalities in the world. And since I had done a total of about two years of field research in Africa for my dissertation, it made sense to look for a position that was based there.
Why with the Weltfriedensdienst?
The Weltfriedensdienst has a very strong focus on the North-South connections that also play a role in my dissertation. Civilian Peace Service is a program of the German Federal Ministry for Economic Cooperation and Development (BMZ). Within this framework, the World Peace Service is one of eight recognized organizations that send peace specialists to cooperate with local organizations in countries of the Global South. The goal of the project is the safeguarding of peace and human rights, and a special focus of the World Peace Service is also the resolution of resource conflicts on the ground.
What project have you been assigned to?
I have been assigned as advisor to an organization in Kenya called Isiolo Peace Link. It is a small organization in Isiolo, a place in northern Kenya, where I also work. As authorized by the BMZ, the project has three objectives: first, to address ethnic conflicts with a special focus on resource conflicts; and second, to strengthen alternative dispute resolution mechanisms (ADR). These are, for example, councils of elders and peace committees, that is, non-governmental mediation instruments, to which formal state courts can outsource the mediation of disputes or conflicts. Kenya's new constitution of 2014 includes a major decentralization program and officially recognizes such alternative dispute resolution mechanisms. The third emphasis of the project is to strengthen socio-economic rights in connection with infrastructure projects.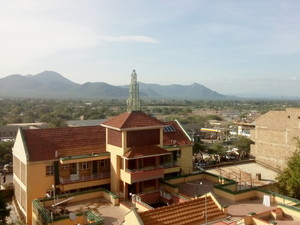 What is the issue here?
Kenya is divided geographically between the southern highlands, which are very fertile and have a moderate climate, and the arid, dry north. The northeastern two-thirds of Kenya's landmass—in the direction of Somalia, Ethiopia, and South Sudan—have been turning increasingly into desert and were neglected for decades, even during the colonial era, as a "buffer" to Ethiopia. In the meantime there is now a huge investment program worth millions in Kenya, the so-called Kenya Vision 2030, whose projects include building a railroad from Lamu on the East African coast to South Sudan or to Ethiopia.
You have to understand the situation: Three years ago there was not a paved road from Isiolo to the Ethiopian border. You drove the 500 Kilometers across the desert, and until a few years ago often with police escort in a convoy because it was bandit country. Now there is a highway, and a pipeline is also being built. And a large airport in Isiolo, I think one of the largest in Kenya, has already been completed.
Around Isiolo, however, it is still pretty "wild": there are many national parks and game reserves, which the people living there view critically because as shepherds they are no longer able to use this land for their herds. In the Isiolo area a tourist hotspot, a so-called resort city, is suppose to be developed, that is, a planned city for tourists similar to Sun City in South Africa.
What is problematic about this?
Lamu Port Southern Sudan-Ethiopia Transport (LAPSSET) Corridor, as this major program is called, encompasses railroad, highway, and pipeline and is tied to enormous investments. Tensions have emerged here around land ownership and land use because these major investments have left many people dispossessed or the victims of speculation.
This is also tied to the progressive decentralization. There are committees—the land commissions—that have actually been instituted in the districts to issue documents about land ownership locally instead of in Nairobi. Despite this, documents also continue to be issued in Nairobi, which of course leads to chaos and conflict. Sometimes a plot of land ends up belonging to two people, in exceptional cases to even as many as seven people.
And what are the goals of your partner organization, Isiolo Peace Link?
Isiolo Peace Link's goals include strengthening the socio-economic rights of the people there. There is great uncertainty among the people because of the numerous investment projects being implemented in the region: "What is being built and where, and what does this mean for me as a resident?" We want to protest against this heteronomy in order to ensure that these things are determined in cooperation with the people living there and not from the top down without prior consultation.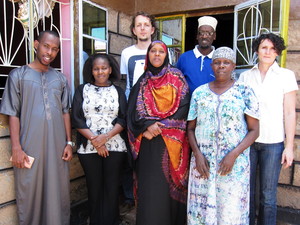 What has been planned concretely in order to find alternative conflict resolutions?
We are not trying to reinvent the wheel here. It is not as if there were no socio-economic rights here before—but their legal enforcement is difficult. There are many legally prescribed participation platforms within the framework of LAPSSET. However, these have been used only irregularly, something we are currently trying to change. In addition we offer special training for people living in the affected areas. These issues, which are in part related to the budget of the national government and in part to that of the district government, presuppose a basic knowledge of budget processes. At the moment there is also discussion about training so-called paralegals, that is, lay-jurists.
There is much we can build on in the realm of alternative conflict resolution mechanisms. Peace committees, councils of elders, grazing and water committees, and so on. These are now recognized in the constitution, but unfortunately there is a mismatch in the cooperation between courts and these alternative organs. Here our goal is to raise awareness among the different actors about the work of these alternative organs and to support them logistically.
What does your daily work routine look like?
In Isiolo I am something of a pioneer—I am not only the very first person from the World Peace Service in Kenya, but I am also here alone. That meant that I had to start from scratch, which has resulted in a bit of chaos even today. I have to get my own documents in order—I am still trying to get a work permit! In addition there are all kinds of bureaucratic procedures that are simply a part of life when you travel abroad. In the initial months I spent weeks purchasing two cars, one for me and one for the partner organization—and I know nothing at all about cars.
I currently live in Nairobi. It is a four-hour drive to Isiolo, which means I do a lot of driving. Every ten days I drive to Isiolo to meet with my partner organization. We work a lot on planning. A large part of my job is still translation work: getting to know each other, a mutual socialization, how do we do these things, how do you do these things, how can we find a common denominator for our cooperation? I am also learning accounting; because this is a state-financed development cooperation, the requirements of the German Federal Court of Auditors have to be met. And I have to write reports.
Was it a difficult transition from theory to practice?
Yes, it was. As an academic you are very protected, and that has changed with this position. While I do not have any decision-making powers about what we do and don't do here, the fact that I am the only link to Germany means that I do have a lot of influence indirectly. On the one hand, this is a major adjustment from my life during the dissertation, and not an easy one. On the other hand, I find it wonderful and fascinating that I am now doing the things that I previously researched and wrote about.
Take the example of human trafficking. Initially it is a concept, a notion that does not yet have any practical content. In my dissertation one of the things that I described was how NGOs in cooperation with the Zambian state establish facts simply by writing reports, precisely because NGOs have to be accountable. Thus they categorize practices, they categorize realities and in doing so establish facts. And that is precisely what I am doing now—I'm currently working on the reports that I previously researched. I find this somehow very amusing.
How much does the experience of your field research and your dissertation help you with your current work?
This critical reflection about global connections has certainly helped me move forward, also the questioning of a humanitarian mode. I try to continue to understand my daily work in Kenya as a simple service. For me it is important not to lose sight of the big picture. Also this anthropological perspective of questioning things and looking critically at what happens behind the scenes: what do people really do, how it is implemented?
And the experience of doing field research has facilitated my socialization in Kenya because it is not my first extended stay in a foreign country. I learned how to play on different levels quite well back then because with my dissertation I had to deal with numerous state authorities, that is, with the police, with Zambian ministries, with UN organizations.
And what were you not prepared for?
My field research led me to Tanzania and Zambia. In my new job in Isiolo in Kenya I find myself in a completely new context because I've never lived in an Islamic society before. The many financial branches were also new to me. Money, unfortunately, is very frequently still the issue, that is, money in the most diverse forms and in all possible contexts.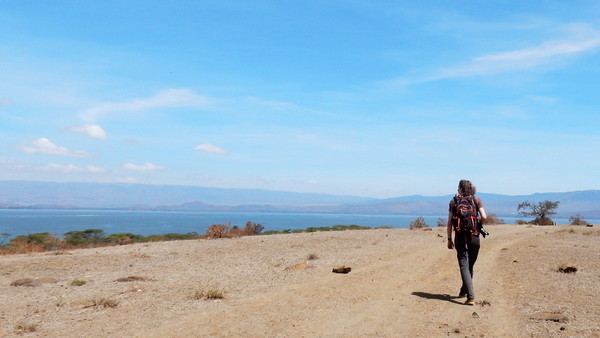 Where do you see your future personally—in Africa or Europe, in science or with non-governmental organizations?
The project runs initially for three years, although civilian conflict work even in the BMZ is set up to be very long term. Thus projects usually have a longer horizon, although new applications, of course, still have to be written. At the moment I assume that I'll remain in Kenya until the end of 2019. Everything else is open. In any case in addition to this work I don't want to close the door on science. I defended my dissertation in February and still want to publish it and to write scholarly articles. In the long term I could imagine combining my work here in Kenya with conflict research, which I consider a very exciting topic—if these can be combined.
Anthropologist Tim Bunke was awarded his PhD in the Center of Excellence for his dissertation "Introducing the human trafficking legislation in Zambia: An ethnography of global connections, vernacularizations and appropriations."
Further Information
Gemeinsam für eine gerechte Landverteilung
Über das Projekt mit der Partnerorganisation Isiolo Peace Link in Kenia
Zur Webseite des Weltfriedensdienstes
Nakonde: Impressionen einer innerafrikanischen Grenze
Beamte, Schmuggler und Migranten: Der Ethnologe Tim Bunke schildert in einer Audio-Slideshow seine Erfahrungen vom Alltag an der Grenze Sambias. Er erforscht dort die Einführung von Gesetzen zum Menschenhandel.
Zum Beitrag