Prof. Dr. Iris Därmann
Vita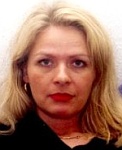 1982 – 1989 Studies in philosophy, sociology and social psychology at the Ruhr University of Bochum
1992 – 1993 Ph.D. student in the doctoral program "Phenomenology and Hermeneutics" at the University of Bochum
1993 Ph.D. with a dissertation on "Death and Image: A Phenomenological History of the Media"
1994 – 1996 Academic Coordinator of the Doctoral Program "Phenomenology and Hermeneutics" of the University of Bochum
1996 – 1997 Habilitation fellowship of the Lise-Meitner Program of Nordrhein-Westfalen
Since 1997 Research Associate at the Institute for Cultural Theory at the University of Lüneburg
2000 – 2002 Habilitation fellowship of the German Research Community (DFG)
2003 Habilitation with a book on "Deferred Indianizing of Europe: The Ethnological Provocation of Philosophy"
October 2005 – January 2006 Visiting Fellow at the International Research Center for Cultural Sciences (IFK) in Vienna
April 2006 – July 2006 Guest professor at the research initiative of Cultural Theory and Theory of the Political Imaginary, University of Konstanz.
Winter Semester 2006/07 Interim professor at the Department of Theater, Film and Television of the University of Cologne
since 2009 Professorship, TOPOI Cluster, Humboldt University Berlin
Research Areas
Theories of media, images, and representation
Phenomenology, psychoanalysis, contemporary French philosophy
Cultural theories, ethnology, concepts of the other
Theories of drama and tragedy
Theories of the political body and sociality
Function within the Center
Research project "Cultural Theories of Gift Exchange" (with Dr. Kirsten Mahlke)
Abstract
Alumna of the Institute for Advanced Study Konstanz (October 2007-September 2008)
about the Institute for Advanced Study
Selected Publications
Theorien der Gabe zur Einführung. Hamburg: Junius, 2010.
Figuren des Politischen. Frankfurt M.: Suhrkamp, 2008.
(Hg. mit Harald Lemke), Die Tischgesellschaft. Philosophische und kulturwissenschaftliche Annäherungen. Bielefeld: transcript, 2008.
Tod und Bild. Eine phänomenologische Mediengeschichte (Diss.), München: Fink 1995.
Fremde Monde der Vernunft. Die ethnologische Provokation der Philosophie (Habil.), München: Fink 2005.
(Hg. mit Bernhard Waldenfels), Der Anspruch des Anderen. Perspektiven phänomenologischer Ethik, München: Fink 1998.
(Hg. mit Christoph Jamme), Fremderfahrung und Repräsentation, Weilerswist: Velbrück 2002.
(Hg. mit Steffi Hobuß/Ulrich Lölke), Konversionen. Fremderfahrungen in ethnologischer und interkultureller Perspektive, New York/Amsterdam: Rodopi 2004.
(Hg. mit Christoph Jamme), Kulturwissenschaften. Theorien, Konzepte, Autoren, München: Fink 2007.
(Hg. mit Kathrin Busch), Pathos. Konturen eines kulturwissenschaftlichen Grundbegriffs, Bielefeld: transcript 2007 (in press).