>

Home

>

PD Dr. Patrick Eiden-Offe
PD Dr. Patrick Eiden-Offe
Vita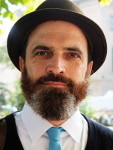 Since February 2017 research associate at Zentrum für Literatur- und Kulturforschung Berlin, research concentration: history of theories
February 2017 Habilitation in German language and literature studies: Neuere deutsche Literaturwissenschaft und Kuturwissenschaft
2011–2017 research assistant at the University of Duisburg-Essen
2009 Preis der Stadt Konstanz zur Förderung des wissenschaftlichen Nachwuchses an der Universität Konstanz
2008-2011 research associate in the Center of Excellence
2008 Promotion, dissertation "Das Reich der Demokratie. Politik und Poetik in Hermann Brochs politischen Schriften und im Roman 'Der Tod des Vergil'"
2007-2009 Academic coordinator of the doctoral program "The Figure of the Third" at the University of Konstanz
04/2006 – 09/2006 Manfred Ulmer Fellow of the Foundation "Science and Society" (Wissenschaft und Gesellschaft) at the University of Konstanz
01/2006 – 06/2006 Research stay at the German Department of Johns Hopkins University Baltimore MD, USA
04/2003 – 03/2006 Fellow of the doctoral program "The Figure of the Third"
07/2002 M.A. (Magister Artium) in Modern German Literature at the University of Hamburg
1994 – 2002 Studies at the University of Hamburg
1991 – 1994 Studies at the University of Tübingen
Research Areas
Literary history from the 19th to 21th century, social history of literature, literature and anthropology, German idealism as a theory of modernity, cultural theory
Function within the Center
Fellow of the Institute for Advanced Study Konstanz (October 2014–March 2015)
research project "Die Poesie der Klasse. Figurationen von Klasse in Literatur und Sozialtheorie des deutschen Vormärz"
Abstract
Selected Publications
Die Poesie der Klasse. Romantischer Antikapitalismus und die Erfindung des Proletariats. Berlin: Matthes und Seitz 2017.
"Kampf-Form. Versuch über die Form der Partei bei Georg Lukács", in: Hanno Plass (ed.), Klasse – Geschichte – Bewusstsein. Was bleibt von Georg Lukács' Theorie?, Berlin 2014: Verbrecher Verlag (in press).
"Hipster-Biedermeier und Vormärz-Eckensteher", in: Merkur, 68, 11 (2014), Nr. 786, 980-988. full text
"'Weiße Sklaven', oder: Wie frei ist die Lohnarbeit? Freie und unfreie Arbeit in den ökonomisch-literarischen Debatten des Vormärz", in: Jutta Nickel (ed.), Geld und Ökonomie im Vormärz. Jahrbuch des Forum Vormärz Forschung 2013, Bielefeld 2014: Aisthesis, 183-214.
"Dicher, Fürst und Kamarilla: Heinrich Heine berät Friedrich Wilhelm IV. Notiz zum Wintermärchen", in: Michael Niehaus/Wim Peeters (ed.), Rat geben. Zu Theorie und Analyse des Beratungshandelns, Bielefeld 2014: Transcript, 275-300.
"A man, a plan, a canal: Der Ökonom und Sozialwissenschaftler Albert O. Hirschman", in: Merkur 12 (2013), Nr. 775, 1104–1115
"Frederick Engels, Entrepreneur. Marx und Engels als Projektemacher", in: Merkur 11 (2012), Nr. 762, 1045–1054
"Tote Hunde leben länger. Hegel ist zurück", in: Merkur 6 (2012), Nr. 757, 510–522.
"Nachbarschaft als Lebensform in Wilhelm Raabes 'Chronik der Sperlingsgasse'", in: Deutsche Vierteljahrsschrift für Literaturwissenschaft und Geistesgeschichte (DVJS) Jg. 85 (2011), Nr. 2 , 233-265.
"Typing ClasClassification and Redemption in Lukács's Political and Literary Theory", in: Timothy Bewes/Timothy Hall (ed.), Georg Lukács: The Fundamental Dissonance of Existence. Aesthetics, Politics, Literature, London/New York 2011: Continuum Press, 65-80.
"Klassen-Bildung. Ein Problemaufriss" (with Eva Blome, Manfred Weinberg), in: Internationales Archiv für Sozialgeschichte der deutschen Literatur (IASL). 35, 2 (2010), 158–194.
"Historische Gegen-Bild-Produktion. Zur Darstellungsweise eines nicht-identischen Proletariats, am Beispiel der 'Vielköpfigen Hydra'", in: Sozial.Geschichte online, 3 (2010), 83-116.