Dr. Nicole Falkenhayner
Vita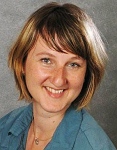 Since 2012 Post-Doctoral fellow at the graduate school "Fictional and Factional Narration" at the University of Freiburg. Project title: "'CCTV- beyond surveillance': Narration and Aesthetics"
2012 PhD in British cultural studies, Faculty of Literature, University of Konstanz ("summa cum laude")
2012 coordinator of the international conference "After Postcolonialism. Similarities in an Entangled World." (Fritz Thyssen Foundation, Cluster of Excellence Cultural Foundations of Integration, University of Konstanz, University of Tübingen, Kulturbüro Konstanz) Konstanz, October 2012
2008–2012 research associate at the Cluster of Excellence "Cultural Foundations of Integration", University of Konstanz. Research Unit: "Idioms of Social Analysis" Project title: "Making the British Muslim. Representations of the Rushdie affair and Figures of the war-on-terror-decade"
1999–2006 Read English and American Literature, Sociology and Linguistics at University of Konstanz, Master of Arts
2005–2006 TA "Introduction to Gender Studies"
2004–2006 Student Assistant in the Department of Literature
2001–2002 Exchange Student at the University of Massachusetts at Amherst
Research Areas
Migration Literature, Narrativity and Cultural Theory, Identity Discourses, Orders of Knowledge
Function within the Center
PhD Student in the Research Group "Idioms of Social Analysis"
Research Project "Making the British Muslim. Representations of the Rushdie Affair and Figurations of the War on Terror Decade"
Abstract
Selected Publications
Making the British Muslim. Representations of the Rushdie Affair and Figures of the War-On-Terror Decade. Basingstoke: Palgrave Macmillan 2014 (Europe in a Global Context, 3).
"Auf Etwas Zurückkommen: Rekursion und Kontraktion als Aufmerksamkeitslogik von Medienereignissen." In: Lay Brander, Miriam et al. (Hg.). Unwahrscheinliche Gegenwarten. Konstellationen und Praktiken der Aufmerksamkeit (forthcoming)

"Dissimilation. Wissen um britische Muslime in der War-On-Terror-Dekade." In: Ezli, Özkan et al. (Hg.). Die Integrationsdebatte zwischen Assimilation und Diversität Bielefeld: transcript, forthcoming 2013
"The Other Rupture of 1989: The Rushdie Affair as the Inaugural Event of Post-Secular Conflict", in: Global Society, 24, 1 (2010), 111-132. full text
"Kenan Malik: From Fatwa to Jihad", Rezension, Journal for the Study of British Cultures (forthcoming)
"Slush Puppy und Grün auf Schwarz: Eine Kindheit in den frühen Achtzigern", in Jan Billhardt (Hrsg.) Und Alles Danach, Hamburg: mta, 2001, 125-131.
"Kein Herz für Kenny: South Park" Hamburger Abendblatt Nr. 83, 10.04. 1999, p. 8
Selected Talks
"Locus Text: Conjectures of the literary topos of g/locality"
Glocal Imaginaries Conference, Universtiy of Lancaster, September 2009
"Erinnerung und narrative Schließung: die Rushdie Affäre und die Krise des britischen Multikulturalismus"
1989 – und weiter? Ein Impuls der Nachwuchsgruppen am Exzellenzcluster, Universität Konstanz, July 2009
"The Rushdie Controversy as a Transnational Dispute – Reflexes and Reflexivity in Media and Literature"
German Studies Association Annual Conference, St Paul, October 2008
"Idiome der Gesellschaftsanalyse: Aspekte einer interdisziplinären Forschungsagenda", mit Dr. habil. Andreas Langenohl, Michael Nau, Johannes Scheu
Arbeitsgespräche des kulturwissenschaftlichen Kollegs, Universität Konstanz, July 2008
"Localise your Enemy: Transnational Idioms in Responses to Terrorism", mit Michael Nau
Interdisciplinary Graduate Conference, University of Cambridge, Juni 2008