Dr. des. Hanna Katharina Göbel
née Steinmetz
Vita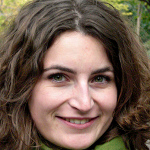 2013– postdoc, department culture, media, society, Prof. Gabriele Klein, University of Hamburg
2012–2013 research associate, Center of Excellence and department of sociology, University of Konstanz
2008–2012 PhD student, Ph.D. Program "Cultures of Time", Center of Excellence "Cultural Foundations of Social Integration", University of Konstanz
2011 fellow, Akademie Schloss Solitude, Stuttgart
2010–2011 visiting fellow, University of Edinburgh, School of GeoSciences
2007–2008 Goldsmiths College, University of London, Great Britain; Master of Arts (M.A.) in Sociology
2003–2006 Zeppelin University, Friedrichshafen, Germany; Bachelor of Arts (B.A.) in Communication and Cultural Management
2007–2008 DAAD Jahresstipendium für Graduierte
2006–2007 Project assistant, Siemens Arts Program, Section Contemporary Culture, Munich, Germany
2005 Internship, Cultural Committee of German Business within the BDI e.V. (Federation of German Industries), Section Fine Arts, Berlin, Germany
2004 Internship, plug.in - Art and New Media, Basel, Switzerland
Research areas
Cultural sociology, sociology of art
Function within the Center
Member of the Ph.D. program "Cultures of Time"
about the Ph.D. program
Dissertation project "Atmospheres of Converted Architecture: Technologies of aestheticizing buildings in re-use"
Abstract
Selected Publications
The Re-Use of Urban Ruins. Atmospheric Inquiries of the City. London, New York: Routledge 2015.
Urbanes Design von Atmosphären. Ästhetische und sinnengeleitete Praktiken mit Gebäuden. In: Stephan Moebius, Sophia Prinz (ed.): Das Design der Gesellschaft. Zur Kultursoziologie des Designs. Bielefeld: transcript 2012, 337-358.
Bei uns im 'Volkspalast'. Über die Arbeit am Kulturproblem, in Klemm, Thomas; Schröter, Kathleen (ed.): Die Gegenwart des Vergangenen. Strategien im Umgang mit sozialistischer Repräsentationsarchitektur -Tagungsbeiträge, Leipzig: Meine Verlag, (erscheint 2009).