Dr. Nora Hangel
Vita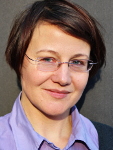 2011 Ph.D., Philosophy, University of Vienna
Since Oct. 2010 research associate, Center of Excellence "Cultural Foundations of Social Integration", University of Konstanz
2009-2010 freelance trainer and coach
2007-2008 research associate, IERM, University of Vienna
2007 Visiting Fellow, ZfG, University of Bremen
2003 project coordinator
Until 2001 studies in Philosophy, English language and literature, Gender Studies, University of Salzburg, University of Graz, Mont Clair (USA), degree: Mag.a phil.
Research Areas
Philosophy of Science
Applied Ethics (Ethics of Science)
Practical Philosophy/Kant
Political Theory
Funktion innerhalb des Exzellenzclusters
Research associate, research project "Integrity in academia - under conditions of integration and competition" (with Dr. Diana Schmidt-Pfister)
abstract
Selected Publications
Hangel, N. with Feldwisch-Dentrup, H. Gemessene Daten – oder Erkenntnisse? In: Cogito, Die unabhängige Zeitschrift der Studierendenschaft Philosophie der LMU, vol. 02, 06/2013, 93-95. text
Hangel, N. Zur Dynamik des Ethos in der Scientific Community als geschichtsphilosophisches Modell – Überlegungen mit Ernst Bloch in: Bloch-Almanach 32/2013, Degler F. (ed.) Ernst-Bloch-Archiv der Stadt Ludwigshafen: Thalhammer VL, 149-162.
Hangel, N. et al. Qualität und Qualitätssicherung in: Spieker, M. (ed.) Gute Lebenswissenschaft für das 21. Jahrhundert, Memorandunm des Tutzinger Diskurses, Akademie für Politische Bildung Tutzing 2013, 36-53.
Hangel, N. "Integrity Endangered by Hypocrisy" in: Nadja Jelinek, Michael Kühler (Ed.) "Autonomy and the Self", Springer 2013, 273-294. (=Philosophical Studies Series, 118)
Hangel, N./Schmidt-Pfister, D. "Wettbewerb und Zusammenarbeit im universitären Forschungsalltag; Ambivalent und untrennbar" in: Die Hochschule, HoF Halle/Wittenberg 2/2012, 182-198.
Hangel, N. "Warum wir wollen können, was wir sollen. Über die Bedingungen der Handlungsverantwortung in engster und weitester Reichweite." Ph.D. Thesis, Wien 12/2011 (looking for publisher). abstract (pdf)