>

Home

>

Tilmann Heil, D.Phil.
Tilmann Heil, D.Phil.
Vita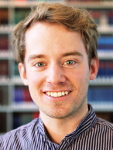 Tilmann Heil is trained in social and cultural anthropology and interdisciplinary migration studies.
As of June 2017, the anthropologist has started his Marie Sklodowska-Curie fellowship at KU Leuven, Belgium within the framework of Belgium's [PEGASUS]² Incoming programme. Since 2013 he served as a scientific coordinator of the Ph.D. Program "Europe in the Globalized World."
As part of his doctoral research at the University of Oxford, he worked with local residents in Casamance (Senegal) and Catalonia (Spain) on discourses, practices and transnational experiences of diversity, difference, conviviality and migration.
Tilmann also held a Doctoral Research Fellowship at the Max Planck Institute of Religious and Ethnic Diversity (Goettingen, Germany), and was affiliated with the Oxford Diaspora Programme (International Migration Institute), the African Studies Centre and COMPAS (Centre on Migration, Policy and Society). He was funded by the Max Planck Institute and the German National Academic Foundation, and he received grants from the German Academic Exchange Service and the University of Oxford.
In his dissertation, Tilmann addressed the question of how people who have grown up in contexts of religious and ethnic diversity make their way within new contexts of increased diversification. He conceptually developed conviviality as a process of interaction, negotiation and translation from which forms of minimal and fragile sociality emerge. He currently develops a project on processes of cultural differentiation and social inequality and hierarchy. In 2014/15, he will conduct fieldwork in one of the economically promising urban centres of the so-called global south.
He was awarded the Max Planck Society's Otto Hahn Medal 2014.
Research concentrations
migration, conviviality, urban (super-)diversity, the everyday, transnationalism, multilingualism, cosmopolitanism, migration and development, 'south-south' migration, western Mediterranean area, Southern Europe, West Africa
Functions within the Center
Scientific coordinator of the Ph.D. Program "Europe in the Globalized World"
Research project "(Un)equal lives of migrants. Comparing, reflecting and embodying processes of social stratification and cultural diversification in a Latin American city"
Abstract
Selected Publications
forthcoming. Between phatic communion and coping strategy. Casamançais multilingual practices. In Multilingual Margins.
forthcoming. Conviviality, with Magdalena Nowicka, deGruyter Open.
2015. Conviviality. (Re-)negotiating minimal consensus, in Steven Vertovec (ed.) Routledge International Handbook of Diversity Studies, Oxford: Routledge.
2014. Dealing with Diversity and Difference in Public. Traces of Casamançais Cohabitation in Catalonia?, in Stanislaw Grodz and Gina Gertrud Smith (eds.) Religion, Ethnicity and Transnational Migration between West Africa and Europe, Leiden: Brill: 98-122. full text
2014. How and why does it matter to understand diverse urban engagements from the migrants' perspective?, MMG Working Paper 14-03. full text
2014. Are neighbours alike? Practices of conviviality in Catalonia and the Casamance. European Journal of Cultural Studies; 17 (2014), 4. - S. 452-470. full text
2013. Cohabitation and Convivencia. Comparing Conviviality in the Casamance and Catalonia. Unpublished D.Phil. Thesis. Institute of Social and Cultural Anthropology, University of Oxford, Oxford. Abstract
2012. Fragile convivialities: everyday living together in two stateless but diverse regions, Catalonia and Casamance, COMPAS Working Papers WP-12-100 paper and MMG Working Paper 12-18. paper
Selected talks
2015. Novas periferias sociais no Rio de Janeiro. Os posicionamentos locais dos imigrantes Senegaleses num contexto transnacional, invited lecture presented at Universidade do Estado do Rio de Janeiro, Brazil
2014. Which questions and whose concepts? Starting from the interlocutors' points of view, paper presented at Rupture Dynamics: Interrogating the Here and Now of Cultural Studies, Center for Advanced Studies, University of Konstanz, Germany, 26-28/06/2014
2014. The role of truncated multilingualism for conviviality. Comparing Casamançais practices in Casamance and Catalonia, invited lecture presented at Crossroads Project, SOAS, London, UK, 29/04/-02/05/2014.
2014. Vidas (a)síncronos de migrantes. Una comparación de los procesos de estratificación social y diferenciación cultural, invited paper presented at Núcleo Interdisciplinar de Estudos Migratórios, Rio de Janeiro, 03/04/2014.
2013. Conviviality: conceptualising everyday living with difference from the migrants' perspective, paper presented at Verortungen. Ethnologie in Wissenschaft, Arbeitswelt und Öffentlichkeit, DGV-Tagung, Mainz, 2-5/10/2013.
2012. Casamançais multilingual practices: a competence, phatic communion, or coping strategy?, paper presented at Language Practices, Migration and Labour: Ethnographing Economies in Urban Diversities, Cape Town, 9-10/10/2012.
Upcoming workshops
Time and the City - Ethnographic Explorations of the Past, Present and Future in Contemporary Cities (Organizer)

Transgressing dividing lines: making and unmaking of urban grids (Lecturer)