Dr. Mark Hengerer
Vita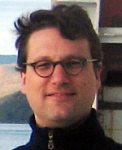 Since 2003 Research assistant in the Department of History and Sociology, Prof. Dr. Rudolf Schlögl, University of Konstanz
2002 Ph.D. (summa cum laude),
Dissertation: "Imperial Court and Nobility in the Mid-17th Century: A Communication History of Power in Early Modernity" (in German)
1996-2002 Research Associate replacing the assistant professor, University of Konstanz
1992-1996 Studies in Münster and Wien of history, Latin, etc.
1991-1992 Civil service (Zivildienst) in cardiac surgery in the University Clinic, Münster
1991 High school (Abitur) in Itzehoe, Schleswig-Holstein
Research Areas
Cultural history of early modernity (1500-1800), sociology, modern Jewish history
Function within the Center
Research project: "Lake Ports in the 18th Century: Situations between Land and Sea"
Selected Publications
Mark Hengerer: Kaiserhof und Adel in der Mitte des 17. Jahrhunderts. Eine Kommunikationsgeschichte der Macht in der Vormoderne. Konstanz 2004 (Historische Kulturwissenschaft, Band 3)
Mark Hengerer (Hg.): Tradition und Entfremdung. Die Lebenserinnerungen des jüdischen Privatdozenten Max Ungar (1850-1930). Innsbruck u.a.: Studienverlag 2011.
Mark Hengerer, Elmar Kuhn (Hg.): Adel im Wandel. Oberschwaben von der Frühen Neuzeit bis zur Gegenwart. 2 Bände. Ostfildern 2006
Mark Hengerer (Hg.): Macht und Memoria. Begräbniskultur europäischer Oberschichten in der Frühen Neuzeit. Köln u.a. 2005
Articles
Die Katze in der Frühen Neuzeit. Stationen auf dem Weg zur Seelenverwandten des Menschen, in: Clemens WISCHERMANN (Hg.): Von Katzen und Menschen. Sozialgeschichte auf leisen Sohlen. Konstanz 2007, S. 53-88
The Funerals of the Habsburg Emperors, in: Michael SCHAICH (Hg.): Monarchy and Religion. The Transformation of Royal Culture in Eighteenth-Century Europe. Oxford 2007, S. 367-394
Zur Konstellation der Körper höfischer Kommunikation, in: Johannes BURKHARDT und Christine WERKSTETTER (Hgg.): Kommunikation und Medien in der Frühen Neuzeit. (Historische Zeitschrift, Beiheft 41), München 2005, S. 519-546
Amtsträger als Klienten und Patrone? Anmerkungen zu einem Forschungskonzept, in: Stefan BRAKENSIEK und Heide WUNDER (Hgg.): Ergebene Diener ihrer Herren? Herrschaftsvermittlung im alten Europa. Köln u.a. 2005, S. 45-78
Macht durch Gunst? Zur Relevanz von Zuschreibungen am frühneuzeitlichen Hof; in: Václav BŮŽEK und Pavel KRÁL (Hgg.): Šlechta v habsburské monarchii a císaršký dvůr (1526-1749), (Opera historica, Band 10). České Budějovice 2003, S. 67-100
Zur symbolischen Dimension eines sozialen Phänomens. Adelsgräber in der Residenz (Wien im 17. Jahrhundert); in: Andreas WEIGL (Hg.): Wien im Dreißigjährigen Krieg. Wien u.a. 2001, S. 250-352
Hofzeremoniell, Organisation und Grundmuster sozialer Differenzierung am Wiener Hof im 17. Jahrhundert, in: Klaus MALETTKE und Chantal GRELL (Hgg.): Hofgesellschaft und Höflinge an europäischen Fürstenhöfen in der Frühen Neuzeit (15.-18. Jh.), (Forschungen zur Geschichte der Neuzeit. Marburger Beiträge, Band 1). Münster u.a. 2001, S. 337-368