Prof. Dr. Eva Horn
Vita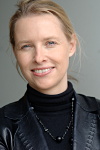 1984-1991 Study of Germanic Languages and Literatures, Romance Languages and Literatures, and Philosophy in Bielefeld, Konstanz and Paris
1996 Ph.D. at the University of Konstanz, Title: Writing Mourning: The Dead in the Text of Goethe's Era (Munich: Fink 1998)
1996-1999 Research Associate in the project SFB 511 "Anthropology and Literature," University of Konstanz
1999-2005 Assistant Professor (Hochschulassistentin) for Western European Literature at the Europa University Viadrina, Frankfurt/Oder, Coordinator of the Doctoral Program "Representation—Rhetoric—Knowledge"
2002-2003 Feodor Lynen Fellowship of the Alexander von Humboldt Foundation at the German Department of New York University
2004 Habilitation (Germanic Languages and Literatures and Comparative Literature) at the Faculty of Cultural Sciences of the Viadrina, Title: The Secret War: Treason, Spying, and Modern Fiction
2005-2008 Professor of Modern German Literature in the Department of German at the University of Basel
since 2009 Professor of Modern German Literature in the Department of German at the University of Wien

Research Areas
German and West European Literature of Modernity
Political Theory and History of Scholarship in the Humanities
War, Theory of Enmity, Political Secrecy
Function within the Center
Research project "Leaders and Founders: On the Narrative Construction of the Rise and Creation of Community" (with PD Dr. Armin Schäfer)
Alumna of the Institute for Advanced Study Konstanz (August-December 2008)
about the Institute for Advanced Study
Selected Publications
Books

Der geheime Krieg. Verrat, Spionage und moderne Fiktion, Frankfurt/M: Fischer Taschenbuch 2007.
Trauer schreiben. Die Toten im Text der Goethezeit, München: Fink 1998.
Grey Room, Special Issue: New German Media Theory, ed. Eva Horn, Summer 2007.
Dark Powers. Conspiracies in History and Fiction, ed. Eva Horn/Anson Rabinbach, New German Critique, Nr. 103, Spring 2008.
Eva Horn, Stefan Kaufmann, Ulrich Bröckling (Hg.): Grenzverletzer. Zur politischen Subversion territorialer Ordnung, Berlin: Kadmos Kulturverlag 2002.
Articles
Arbeit am Charisma – Macht und Affekt in Joachim Fests und Ian Kershaws Hitler-Biographien. In: Politische Leidenschaften. Zur Verknüpfung von Macht, Emotion und Vernunft in Deutschland. Tel Aviver Jahrbuch für deutsche Geschichte, 38 (2010), S. 47-62.
Actors/Agents. Brecht an d the Politics of Secrecy, in: Grey Room 24, Special Issue Documenta, Summer 2006, S. 38-55.
Abwege der Forschung. Zur literarischen Archäologie der wissenschaftlichen Neugierde (Frankenstein, Faust, Moreau), in: Horn/Menke/Menke (Hg.): Literatur als Philosophie – Philosophie als Literatur, München: Fink 2005, S. 153-172.
Leichen im Keller der Macht. Zur Theorie des modernen Staatsgeheimnisses, in: Klaus R. Scherpe/Thomas Weitin (Hg.), Eskalationen. Die Gewalt von Kultur, Recht und Politik, Tübingen/Basel: Francke 2003, S. 151-167.
Über Grenzen, in: Texte zur Kunst, Sept. 2002, S. 40-44.
Politische Störungen. Streik, Sabotage, Staatsstreich, in: Albert Kümmel/Erhard Schüttpelz (Hg.): Signale der Störung, München: Fink 2003, S. 321-334.