Thilo Jungkind
Vita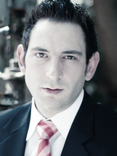 2000 Graduated from the nutritional-science gymnasium of the Albert Schweitzer School in Villingen (Schwarzwald).
September 2000-Juli 2001 military service.
October 2001-August 2007 Study of business and economics education with double compulsory elective in modern and contemporary history, Universität Konstanz, with first degree in education, specializing in commerce; graduate work for the Chair in Economic and Social History, Prof. Clemens Wischermann.
November 2006-April 2007 commercial internship, Intra Management Consultancy Düsseldorf.
September 2007-October 2007 Stay in USA.
November 2007-December 2007 certified research assistant, collaborative research-center project, Prof. Clemens Wischermann.
2008-2012 Doctoral work in the Center of Excellence
2013 Umweltpreis, Stiftung "Umwelt und Wohnen an der Universität Konstanz" der LBS Landesbausparkasse Baden-Württemberg
Research Area
Economic and social history, esp. company history in the context of modern and contemporary history; company research.
Function within the Center
Doctoral student in research project "'Escaped from Hell…' A Case Study of Crisis-Communication in the Chemical Industry. BASF (1921/1948), Chemical Works Bitterfeld (1968), Sandoz (1986), Höchst (1993)" (with Prof. Clemens Wische and Prof. Dr. Katja Patzel-Mattern)
Abstract
Selected Publications
Risikokultur und Störfallverhalten der chemischen Industrie. Gesellschaftliche Einflüsse auf das unternehmerische Handeln von Bayer und Henkel seit der zweiten Hälfte des 20. Jahrhunderts. Stuttgart: Steiner 2013. (Perspektiven der Wirtschaftsgeschichte, 3)
Risikoverhalten und 'Störfallkrisen' in der chemischen Industrie. Eine unternehmensgeschichtliche Perspektive. In: Carla Meyer, Katja Patzel-Mattern, Gerrit Jasper Schenk (ed.): Krisengeschichte(n). "Krise" als Leitbegriff und Erzählmuster in kulturwissenschaftlicher Perspektive. Stuttgart: Steiner 2013, 281-301. (Vierteljahrschrift für Sozial- und Wirtschaftsgeschichte – Beihefte, 210)