>

MA-Program International Administration and Conflict Management
MA-Program International Administration and Conflict Management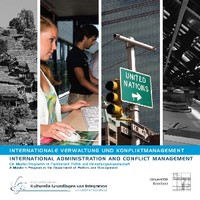 A Unique Master's Program
The master's Program in International Administration and Conflict Management (IACM) offered by the Department of Political Science and Management ties training in research on conflict and administration within a political science framework to acourse of studies that is unique in Europe. The IACM program is the only course of study in Europe which combines educational contents from international politics and international organizations, conflict research, administrative sciences and management studies. This distinguishes the program from conventional courses of study in peace and conflict research.

The program is one of four specializations of the M.A. "Politics and Management" offered at the University of Konstanz and reflects the growing significance of both international organizations and public administration for long term conflict management. Examples are UN or EU peace operations and acts of humanitarian intervention in crisis-ridden regions, with the international community being expected to break through the cycle of violence, collapse of state functions, and new violence.

The reconstruction of failed states involves setting up an administration, a legal system, a system for policing the given area, and infrastructure. As a rule, the original conflict has not been overcome, so conflict resolution, the creation of an administrative apparatus, and the building of political institutions need to proceed simultaneously. Incorporating a unique combination of conflict analysis and administrative science, the IACM program differs from both conventional conflict and peace studies and the hand-on approach of professional schools. This course of study is intended for students who hold a bachelor of arts degree or its equivalent and who are interested in pursuing relevant scholarly or practical activity in the UN system, the EU, the diplomatic service, or nongovernmental organizations.
…with unique opportunities
Profit from the advantages of studying at the University of Excellence in Konstanz:
effective learning groups with an average size of 15 students
award-winning university library (rank 1 in the national comparison of 2009 and 2010) with a 24-hour service
opportunities for financial and organizational assistance for field researchnumerous
exchange opportunities for one to two semesters abroad and special counseling concerning international internships
The IACM Program is part of the Center of Excellence for "Cultural Foundations of Integration." Students enjoy a particularly stimulating academic environment as well as infrastructural and financial support for travel and research papers.

…and of course the high recreational value of the Lake Constance area!
Contact
Dr. Martin Welz

University of Konstanz
Center of Excellence
P.O.Box 213
78457 Konstanz, Germany
phone +49 (0)7531 88-4634
fax +49 (0)7531 88-4410
e-mail iacm[at]uni-konstanz.de
News
Was President Robert Mugabe's forced retirement really a coup d'état in disguise? And what policies will his successor, Emmerson Mnangagwa, now offer the country? A conversation with the political scientist and expert on Africa, Martin Welz

15. March 2017

Wolfgang Seibel to be member of the scientific advisory board of the journal "Guerres mondiales et conflits contemporains"

Prof. Wolfgang Seibel has been named a member of the scientific advisory board of the French journal "Guerres mondiales et conflits contemporains."
Wolfgang Seibel is professor of Political and Administrative Science, University of Konstanz. He is member of the executive board and the plenary...

6. March 2017

New release: The Management of UN Peacekeeping. Edited by Julian Junk, Francesco Mancini, Till Blume, and Wolfgang Seibel

Coordination, Learning, and Leadership in Peace Operations
Boulder: Lynne Rienner 2017