Prof. Dr. Barbara Kuhn
Vita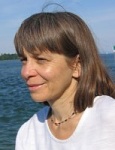 Study of Library Science as well as Romance Languages and Literatures and Germanic Language and Literatures in Stuttgart, Tours and Paris.
Ph.D. in 1993 at the University of Stuttgart with a dissertation on the French novel in the second half of the 20th century
1993–1996 Teaching at the Universities of Stuttgart, Halle and Marburg.
1997–2004 Research Associate and Advanced Assistant Professor (Oberassistentin) (following the Habilitation) at the Westphalian Wilhelms University Münster.
End of 2001 Habilitation in Münster on the Circe myth in the literature of the Italian Renaissance.
2002–2003 Research stay in Venice.
Since summer semester 2004 Professor of Romance Literatures at the University of Konstanz.
Research Areas
Visuality and narratology in the Middle Ages and early modernity, Literature of the Italian Renaissance, Narration in the 18th Century, Italian Literature of the 19th Century (focus on Giacomo Leopardi), Contemporary literature in France and Italy, Reception of ancient mythology until the present, Body figurations in texts and on the stage
Function within the Center
Start-up financing for the research project "Imaginarration. Ecphrasis and Iconoclasm"
Abstract

Selected Publications
Books
A la recherche du livre perdu. Der Roman auf der Suche nach sich selbst. Am Beispiel von Michel Butor: ‹La Modification› und Alain Robbe-Grillet: ‹La Jalousie›. Bonn: Romanistischer Verlag 1994. Dissertation.
Mythos und Metapher. Metamorphosen des Kirke-Mythos in der Literatur der italienischen Renaissance. München: Fink 2003. Habilitationsschrift.
Verfehlter Dialog oder versuchter Dialog? Zeitgenössischer Roman, Literaturwissenschaft und Erinnerungskunst. Zu Yasmina Rezas Une désolation und Antonio Tabucchis Si sta facendo sempre più tardi. Konstanz: UVK Universitätsverlag Konstanz 2006.
Essays
«Narrative structures and iconicity in Yasmina Reza's Une désolation», in: Outside-In – Inside-Out. Iconicity in Language and Literature 4. Papers presented at the Fourth Symposium on Iconicity in Language and Literature organized by the Université catholique de Louvain, Louvain-la-Neuve, University of Amsterdam, University of Zürich and held at Catholic University of Louvain in Louvain-la-Neuve, March 27–29, 2003. Ed. by Costantino Maeder, Olga Fischer, William J. Herlofsky. Amsterdam; Philadelphia: Benjamins 2005, 359-374.
«Reflexion und Repräsentation. Bilder, Körper, Namen in Gozzis Turandot», in: Text – Interpretation – Vergleich. Festschrift für Manfred Lentzen zum 65. Geburtstag. Hg. von Joachim Leeker und Elisabeth Leeker. Berlin: Erich Schmidt 2005, 378-394.
«Und sie singt doch. Leopardis Palinodie des Ultimo canto di Saffo», in: Ginestra 15 (2005), 29-51.
«Roman und Rhetorik in Francesco Grittis La mia istoria ovvero Memorie del Signor Tommasino (1767/68): ars est celare artem oder a purloined letter?», in: Retorica: Ordnungen und Brüche. Beiträge des Tübinger Italianistentags. Rita Franceschini / Rainer Stillers / Maria Moog-Grünewald / Franz Penzenstadler / Norbert Becker / Hannelore Martin (Hrsg.). Tübingen: Narr 2006, 351-365.
«Authentizität und Autobiographie: Robbe-Grillets reprise der Romanesques», in: Authentizität. Diskussion eines ästhetischen Begriffs. Susanne Knaller / Harro Müller (Hrsg.). München: Fink 2006, 115-146.
«Das Portrait als ‹préservatif› oder ‹ristoro›: zu Foscolos Ultime lettere als Kritik an Rousseaus La Nouvelle Héloïse», in: Pensées – Pensieri – Pensamientos. Dargestellte Gedankenwelten in den Literaturen der Romania. Festschrift für Werner Helmich. Klaus-Dieter Ertler / Siegbert Himmelsbach (Hrsg.). Münster: LIT-Verlag 2006, 525-555.
«Il viaggio come luogo d'incontro con l'altro: La mia istoria ovvero memorie del signor Tommasino di Francesco Gritti (Venezia 1767/68)», in: Venezia, l'altro e l'altrove. A cura di Susanne Winter. Roma: Edizioni di storia e letteratura; Venezia: Centro tedesco di studi veneziani 2006, 163-196.