>

Home

>

Prof. Dr. Andreas Langenohl
Prof. Dr. Andreas Langenohl
Vita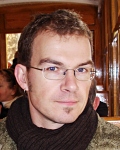 Since June 2010: Professor for Soziology, Justus Liebig University of Gießen
June 2007-May 2010: Director of the research group "Idioms of Social Analysis" in the Center of Excellence
December 2005: Awarding of the venia legendi in the discipline of "sociology" in the Department 03 of the Justus Liebig University of Gießen
April-August 2003: Adjunct lecturer at the University of Zürich in the History Department, Section for East European History
February/October 2003: Research Fellowship at the Department of German Cultural Studies and the Einaudi Center for European Studies, Cornell University
Since January 2003: Head of the research project "Professional Memory at the Stock-Exchange: The Market Era of Globalization" in the framework of the Special Research Area 434 (SFB 434) "Memory Cultures," Justus Liebig University of Gießen
January 1997 until May 2007: Research associate, since 2002 assistant professor in the team for political and cultural sociology (Prof. Dr. Helmut Dubiel), JLU Gießen
October 1991–December 1996: Study of sociology, Slavic and English linguistics at the JLU Gießen, at the State University of Kazan (Russia) and the University of Simferopol (Ukraine)
Research Areas
Processes and theory of modernization
Traditionalization and dis-traditionalization
Collective memory in the post-Soviet sphere
Economic sociology
Function within the Center
Fellow of the Institute for Advanced Study Konstanz (April–September 2013),
Research project "Smalltown Transnationals: Twin Towns and Active Citizenship in a Globalizing Europe"
Abstract
completed:
Director of the research group "Idioms of Social Analysis"
about the research group
Research project "The Double Career of a Category: Uses of "Reflexivity" in the Social Sciences"
Abstract
Research project "Arbeit am Fall: Eine vergleichende Soziologie der Wissensgesellschaft"
Abstract
Selected Publications
Monographs and Edited Volume
Town Twinning, Transnational Connections, and Trans-local Citizenship Practices in Europe. Basingstoke: Palgrave Macmillan, 2015. (Europe in a Global Context, 4)
Mit Özkan Ezli und Valentin Rauer (Hg.): Konjunkturen der Integration. Themenheft. Sociologia Internationalis 49, 1(2011).
Tradition und Gesellschaftskritik. Eine Neubestimmung der Modernisierungstheorie. Frankfurt a.M./New York: Campus, 2007.
Finanzmarkt und Temporalität. Imaginäre Zeit und die kulturelle Repräsentation der Gesellschaft (= Qualitative Soziologie, Bd. 7). Stuttgart: Lucius & Lucius.
Mit Kirsten Westphal (Hg.): Conflicts in a Transnational World: Lessons from Nations and States in Transformation (= Schriften für Entwicklungs- und Umweltforschung), Frankfurt a.M. u.a.: Peter Lang, 2006.
Erinnerung und Modernisierung. Die Rekonstruktion politischer Kollektivität am Beispiel des Neuen Rußland (= Formen der Erinnerung, Bd. 7), Göttingen: Vandenhoeck & Ruprecht, 2000.
Articles
Statusökonomie und Preisbildung am Finanzmarkt im Gefolge der Lehman-Pleite, in: Oliver Kessler (Hg.): Die Internationale Politische Ökonomie der Weltfinanzkrise. Wiesbaden: VS Verlag für Sozialwissenschaften, 2011, S.?. (Globale Politische Ökonomie, 1)
Imaginäre Grenzen. Zur Entstehung impliziter Kollektivität in EU-Europa. In: Berliner Journal für Soziologie 20, 1 (2010), S. 45-63.
Finanzmarktöffentlichkeiten. Die funktionale Beziehung zwischen Finanzmarkt und öffentlichem Diskurs, in: Rainer Diaz-Bone/Gertraude Krell (Hsrg.), Diskurs und Ökonomie. Diskursanalytische Perspektiven auf Märkte und Organisationen. Wiesbaden 2009, 245-266.
History vs. Genealogy: Why Ethnomethodology was Forgotten in the Debate on Social-Scientific Reflexivity, in: Forum: Qualitative Social Research, 10 (2009) 3 [full article (German): http://nbn-resolving.de/urn:nbn:de:0114-fqs090344]
Two Reflexivities in Current Social Science: Remarks on an Absent Debate, in: Forum: Qualitative Social Research, 10 (2009) 2, Art. 9 [full article (German): http://nbn-resolving.de/urn:nbn:de:0114-fqs090297]
Memory in Post-Authoritarian Societies, in: Astrid Erll/Ansgar Nünning (Hg.), Cultural Memory Studies. An International and Interdisciplinary Handbook, Berlin/New York: de Gruyter, 2008, S. 163-172.
Mit Kerstin Schmidt-Beck: Technology and (Post-)Sociality in the Financial Market: A Re-evaluation, in: Science, Technology and Innovation Studies 3 (2007) 1, S. 5-22.
Öffentlichkeit und politisch-kulturelle Differenz in Europa: Jenseits von Kulturalismus und Anti-Kulturalismus, in: Kathrin Ruhl/Jan Schneider/Jutta Träger/Claudia Wiesner (Hg.), Demokratisches Regieren und politische Kultur. Post-staatlich, post-parlamentarisch, post-patriarchal? Münster: Lit, 2006.
Rescuing/Abandoning the Convergence Claim: Modernization Processes and Criticism, in: Karl-Siegbert Rehberg (Hg.), Soziale Ungleichheit – Kulturelle Unterschiede, Verhandlungen des 32. Kongresses der Deutschen Gesellschaft für Soziologie in München 2004, Frankfurt a.M. u.a.: Campus, 2006 (CD-ROM).
Die Dialektik von Vernunft und Natur und ihre bestimmte Negation: Zum Motiv des Bilderverbots in der kritischen Theorie, in: Bettina Bannasch/Almuth Hammer (Hg.), Verbot der Bilder – Gebot der Erinnerung. Mediale Repräsentationen der Schoah, Frankfurt a.M. u.a.: Campus, 2004, S. 61-80.
Erinnerungskonflikte und Chancen ihrer "Hegung", in: Soziale Welt 52 (2001), Heft 1, S. 71-91.
Politische Kultur in den Zeiten der Konfliktenttarnung: Zur postkommunistischen Modernisierung kollektiver Erinnerungspraktiken, in: Berliner Journal für Soziologie 2000, Heft 4, S. 517-534.