Philip Leifeld
Vita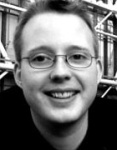 05/2007-11/2007 Research Associate in the Center of Excellence EXC16 "Cultural Foundations of Integration," University of Konstanz. Supervisor: Prof. Dr. Volker Schneider.
10/2005-04/2007 Research Assistant (Wissenschaftliche Hilfskraft) at the Chair for Material State Theory (Prof. Dr. Volker Schneider). Staff on research project "Political Networks and Political Theory."
09/2004-03/2005 Work in Brussels at the EU-Japan Centre for Industrial Cooperation.
10/2002-04/2007 Masters Study "Management Science" at the University of Konstanz. Focus: "Policy Analysis and Evaluation Research."
09/2001-06/2002 Civil service, Freckenhorster Werkstätten Ahlen
06/2001 High school completion (Abitur), Städtisches Gymnasium Ahlen
Research Areas
Policy analysis, methods of quantitative discourse analysis, political networks, politics of risk prevention, and risk communication
Function within the Center
Research Project "Risikokommunikation und Diskursnetzwerke" (with Prof.
Volker Schneider)
Abstract
Selected Publications
Lang, Achim und Philip Leifeld, 2007: Die Netzwerkanalyse in der Policy-Forschung: Eine theoretische und methodische Bestandsaufnahme. S. 223-241 in Janning, Frank und Katrin Toens (Hg.), Die Zukunft der Policy-Forschung. Theorien, Methoden, Anwendungen. Wiesbaden: VS-Verlag. (forthcoming)
Schneider, Volker und Philip Leifeld, 2007: Belief Systems, Discourse Networks and Institutional Communication in Policy Making: A Second Look on Chemicals Regulation in Germany in the 1980s. Paper presented at the XXVII International Sunbelt Social Network Conference in Corfu, Greece, 01–06 May, 2007.