>

Home

>

Prof. Dr. Dirk Leuffen
Prof. Dr. Dirk Leuffen
Vita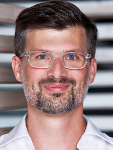 Dirk Leuffen ist seit 2011 Professor für Politikwissenschaft mit dem Schwerpunkt Internationale Politik am Fachbereich Politik- und Verwaltungswissenschaft der Universität Konstanz. Aktuell ist er auch Sprecher dieses Fachbereichs.
Dirk Leuffen studierte Sprachen-, Wirtschafts- und Kulturraumstudien an der Universität Passau. Er promovierte am Mannheimer Zentrum für Europäische Sozialforschung bzw. an der Universität Mannheim über einen Vergleich der französischen Europapolitik in Zeiten der Cohabitation und des "unified government". Von 2005 bis 2010 war Leuffen PostDoc und Senior Researcher an der ETH Zürich im Bereich "European Politics".
Die Schwerpunkte seiner wissenschaftlichen Arbeit liegen auf den Bereichen Regionale Integration, Verbindung von Innen- und Außenpolitik und die Verknüpfung qualitativer und quantitativer Methoden der Sozialforschung. Im Cluster leitet Dirk Leuffen ein vergleichendes Projekt zur Normentwicklung in Regionalorganisationen.
Forschungsschwerpunkte
Regionale Integration / Schwerpunkt Differenzierung und Erweiterung

Außenpolitikforschung

Mixed methods
Funktion innerhalb des Exzellenzclusters
Mitglied des erweiterten Plenums
Projektleiter des Forschungsprojekts "Externe Schocks, internationale Organisationen und die Herausbildung politischer Normen: eine vergleichende Analyse regionaler Integration in der EU, dem Mercosur und der ASEAN" (mit Kerstin Schembera und Sophia Timmermann)
Abstract
Ausgewählte Publikationen
Leuffen, Dirk, Rittberger, Berthold, & Schimmelfennig, Frank. (2013). Differentiated Integration. Explaining variation in the European Union. Basingstoke: Palgrave.

Leuffen, Dirk. (2007). Cohabitation und Europapolitik. Politische Entscheidungsprozesse im Mehrebenensystem. Nomos, Baden-Baden.

Leuffen, Dirk, Malang, Thomas, & Wörle, Sebastian. (2014). Stucture, Capacity or Power? Explaining Salience in EU Decision-Making, Journal of Common Market Studies.

Leuffen, Dirk, Shikano, Susumu, & Walter, Stefanie. (2013). Measurement and Data Aggregation in Small-n Social Scientific Research. European Political Science, 12, 40–51.

Thomson, Robert, Arregui, Javier, Leuffen, Dirk, Costello, Rory, Cross, James, Hertz, Robin, & Jensen, Thomas. (2012). A new dataset on decision-making in the European Union before and after the 2004 and 2007 enlargements (DEUII). Journal of European Public Policy, 19(4), 604–622.

Leuffen, Dirk, & Hertz, Robin. (2010). If things can only get worse: Anticipation of enlargement in European Union legislative politics. European Journal of Political Research, 49(1), 53–74.

Bailer, Stefanie, Hertz, Robin, & Leuffen, Dirk. (2009). Oligarchization, formalization, adaptation? Linking Sociological Theory and EU Enlargement Research. Journal of European Public Policy, 16(1), 162–174.

Gschwend, Thomas, & Leuffen, Dirk. (2005). Divided We Stand - Unified We Govern? Cohabitation and Regime Voting in the 2002 French Elections. British Journal of Political Science, 35, 691–712.

Rittberger, Berthold, Leuffen, Dirk, & Schimmelfennig, Frank. (2014). Differentiated Integration of Core State Powers. In Philipp Genschel & Markus Jachtenfuchs (Eds.), Beyond the Regulatory Polity? The European Integration of Core State Powers (pp. 189–208). Oxford: Oxford University Press.

Leuffen, Dirk. (2007). Case selection and selection bias in small-n research. In Thomas Gschwend & Frank Schimmelfennig (Eds.), Research Design in Political Science. How to practice what they preach (pp. 145–160). Houndmills: Palgrave Macmillan.