Prof. Dr. Riccardo Nicolosi
Vita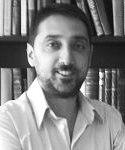 Study of Russian Language/Literature, German Languages/Literatures, Italian Language/Literature, and History at the University La Sapienza (Rome) and in Moscow. 1993: Laurea (Masters)
2001 Doctorate in Slavic Languages/Literatures at the University of Hamburg. Dissertation: The Petersburg Panegyric in Russian Literature of the 18th Century.
2001 Research Associate in the Special Research Area "Literature and Anthropology" at the University of Konstanz.
Since 2001 Assistant Professor (Wissenschaftlicher Assistent) in the Department of Literature at the University of Konstanz, Section in Slavic Literatures
2003 Organizer of the international conference Medicine and Russian Literature (in Russian), together with J. Murasov and K. Bogdanov. University of Konstanz 9.-11 October 2003.
2004 Organizer of the workshop Džambul Džabaev and Soviet Culture in the 1930s (in Russian), together with J. Murasov .and K. Bogdanov. In cooperation with the Charles University of Prague, Prague 10.- 11 June 2004.
2005 Organizer of the international conference Rhetoric as Cultural Practice (together with R. Lachmann and S. Strätling). Free University of Berlin 10.-12 November 2005.
2005 and 2006 Visiting Scholar at the University of California, Berkeley.
2007/2008 Fellow at the Institute for Advanced Study Konstanz, "Cultural Foundations of Integration" Center of Excellence, University of Konstanz.
2008 Habilitation, University of Konstanz.
2008/2009 Vertretung der Professur für Slavische Literaturen und Allgemeine Literaturwissenschaft an der Universität Konstanz.
2009 Research Associate at the interdisciplinary Research Center "Was wäre wenn? Zur Bedeutung, Epistemologie und Psychologie kontrafaktischen Denkens", University of Konstanz.
2010–2012 Akademischer Oberrat auf Zeit, University Bonn. Geschäftsführender Direktor der Abteilung für Slavistik.
2012–2014 Professor for Russian Culture, Institute for Slavic Studies/Lotman Institute, University of Bochum.
as of 2014 Professor for Slavic Philology, LMU Munich.
Research Areas
Russian Literature and Culture (particularly 18th and 19th Century)
Bosnia, Croatian, and Serbian Literatures
Rhetoric (Epideixis; Academic Rhetoric)
Literature and Science
The City and Literature (St. Petersburg; Sarajevo)
The Culture of the Art and Curiosity Chamber (Kunst- und Wunderkammer)
Function within the Center
Research Project "Narratives of Decline: Atavism and Degeneration as Interdiscursive Narrative Models in Russian Culture (1880-1900)"
Abstract
Alumnus of the Institute for Advanced Study Konstanz (April 2007-April 2008)
about the Institute for Advanced Study
Selected Publications
Riccardo Nicolosi: Degeneration erzählen. Literatur und Psychiatrie im Russland der 1880er und 1890er Jahre. Paderborn: Fink 2018 (Theorie und Geschichte der Literatur und der Schönen Künste, vol. 121).
Riccardo Nicolosi: Fragments of War: The Siege of Sarajevo in Bosnian Literature. In: Tanja Zimmermann (Hg.): Balkan Memories. Media Constructions of National and Transnational History. Bielefeld (Transcript), 2012, p. 65-75.
Nervöse Entartung. Narrative Modelle von Neurasthenie und Degeneration im Russland des ausgehenden 19. Jahrhunderts. In: M. Bergengruen, K. Müller-Wille, C. Pross (Hg.), Neurasthenie. Die Krankheit der Moderne und die moderne Literatur. Freiburg (Rombach-Verlag), 2010, p. 103-138.
Experimente mit Experimenten. Émile Zolas Experimentalroman in Russland zwischen Ablehnung und Dekonstruktion. In: Michael Gamper (u.a.), "Wir sind Experimente: wollen wir es auch sein!" Experiment und Literatur 1790-1890. Göttingen (Wallstein Verlag), 2010, p. 367-394.
Peterburgskij panegirik XVIII veka. Mif – ideologija – ritorika. Moskau. 2009 (Verlag Jaziki slavjanskoj kul'tury).
Der Degenerationsroman. Wissen und Erzählen im Russland der 1880er Jahre. Habilitationsschrift. Konstanz 2008. (Ms.)
Die Petersburg-Panegyrik. Russische Stadtliteratur im 18. Jahrhundert. Frankfurt a.M. u.a. (Peter-Lang Verlag, Reihe Slavische Literaturen, Bd. 25), 2002.
Russkaja literatura i medicina. Telo, predpisanija, social'naja praktika [Russische Literatur und Medizin: Körper, Verschreibungen, soziale Praxis] Hg. zusammen mit Ju. Murašov und K. Bogdanov. Moskau (Verlag: Novoe izdatel'stvo, Reihe: Novye materialy i issledovanija po istorii russkoj kul'tury, Bd. 1), 2006.
Rhetorik als kulturelle Praxis. Hg. zusammen mit R. Lachmann und S. Strätling. München (Wilhelm Fink Verlag, Reihe: Figuren), 2008.
Die Überwindung des Sekundären in der medialen Repräsentation Stalins. Versuch über die politische Theologie der Stalinzeit. In: G. Fehrmann u.a. (Hg.), Originalkopie. Praktiken des Sekundären. Köln (DuMont Verlag, Reihe Mediologie, Bd. 11), 2004, p. 122-138.
Nähe ohne Abstand. Intimität im Zeichen von Degeneration und Naturalismus (M.E. Saltykov-Ščedrins Gospoda Golovlevy). In: N. Grigor'eva, S. Schahadat, I.P. Smirnov (Hg.), Nähe schaffen - Abstand halten. Zur Geschichte von Intimität und Nähe in der russischen Kultur. Wiener Slawistischer Almanach, Sonderband 62, 2005, p. 267-306.
Mikrokosm novogo. Kunstkamera, Peterburg i simvoličeskij porjadok petrovskoj ėpochi [Mikrokosmos des Neuen. Die Kunstkammer, Petersburg und die symbolische Ordnung der Petrinischen Epoche]. In: E.V. Anisimov (Hg.), Petr Velikij, (Verlag O.G.I., Reihe: nacija i kul'tura) Moskau 2007, p. 156-174.
Unreine Liebe. B. Stankovićs Nečista krv als Degenerationsroman. In: R. Hodel (Hg.), Darstellung der Liebe in bosnischer, kroatischer und serbischer Literatur. Von der Renaissance ins 21. Jahrhundert. Frankfurt/Main 2007, p. 159-176.
Das Blut der Karamazovs. Vererbung, Experiment und Naturalismus in Dostoevskijs letztem Roman. In: M. Schwartz u.a. (Hg.), Laien – Lektüren – Laboratorien. Wissenschaften und Künste in Russland 1850-1950, Frankfurt/Main (Peter Lang Verlag) (forthcoming in fall 2007), 29 S.
Fragmente des Krieges. Der Belagerungstext Sarajevos in der neuren bosnischen Literatur. In: D. Beganović, P. Braun (Hg.), Kriege sichten. Zur medialen Darstellung der Kriege in Jugoslawien, München (Wilhelm Fink Verlag) (forthcoming in fall 2007), 23 S.
Genuesische Lastträger, Hottentottinnen und Kamele. Wissenschaftsrhetorik am Beispiel Cesare Lombrosos. In: R. Lachmann, R. Nicolosi, S. Strätling (Hg.), Rhetorik als kulturelle Praxis, München (Wilhelm Fink Verlag, Reihe: Figuren) (forthcoming in spring 2008). 18 S.