Florian Roth
Vita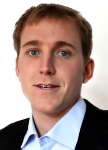 Florian Roth studied Political Science, History, Arts and Media at the University of Konstanz and at the Stockholm University. Between 2007 and 2008 he was a stipendiary of the Peace Research Institute, Oslo (PRIO).
In spring 2008, Florian Roth finished his M.A. studies with a thesis on the Western news coverage on events of organized political violence during the Angolan civil war.
Since fall 2008 Florian Roth works as a research assistant at the Chair for German Politics and Public Administration and is at the same time associated member of the research group "Conflict generators" in the Center of Excellence at the University of Konstanz.
Research Areas
Strategic risk communication, security cultures and security discourses, modern protectorates, conflict research
Function within the Center
Associated member of the research group "Conflict generators"
about the research group
Research project "Risikoperzeptionen und Risikokommunikationsstrategien moderner Protektorate"
Abstract