Johannes Scheu
Vita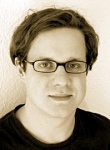 2001-2007 Study of Sociology and Political Science in Freiburg i.Br. and Paris
Summer 2007 M.A. in Sociology; Title of the Masters Thesis: "Community– Violence – Exclusion. René Girard and Giorgio Agamben in Comparison." (Advisor: Prof. Dr. Wolfgang Eßbach)
November 2007- March 2008 Research Associate at the Chair for Sociological Theories, University of Hamburg (Prof. Dr. Max Miller)
since April 2008 Research Associate in the Center of Excellence "Cultural Foundations of Integration" at the University of Konstanz
Research Areas
Recent theories of inequality and exclusion, Sociology of culture and violence, Africa (especially Rwanda and the Region of the Great Lakes)
Function within the Center
Research associate in the research group "Idioms of Social Analysis"
Dissertation project: "Pauperismus und Exklusion. Theoretisierungsversuche extremer Armut in der frühen und neueren Soziologie"
Abstract
Selected Publications
Dangerous classes: tracing back an epistemological fear, in: Distinktion. Scandinavian Journal of Social Theory, special issue: Fear 12, 2 (2011), S. 115-134 (Online-Quelle).

Hundert Tage Hölle in Rwanda. Das Attentat auf Präsident Habyarimana vor 15 Jahren – Fanal für den Völkermord, in: Neue Zürcher Zeitung, 03.04.2009, (online resource).
When the Inside becomes the Outside. Sociological Questions to Giorgio Agamben, in: Soziale Systeme. Zeitschrift für Soziologische Theorie, 14 (2008), H.2., S. 294-307 (Abstract)
"Holy Violence, Holy Life: Giorgio Agamben's homo sacer in the Context of the Sacrifice Theory of René Girard," in: Meier, Frank/Böckelmann, Janine (Hg.): Die gouvernementale Maschine. Zur politischen Philosophie Giorgio Agambens, Münster 2007.
"Survival in the Void: Giorgio Agamben," in: Moebius, Stephan/Quadflieg, Dirk (Hg.): Kultur. Theorien der Gegenwart, Wiesbaden 2006.
Selected Lectures
Enabling the Crossing of Lines. The 'Local' and its Function in Theorizing the Network-Society, Tagung "Glocal Imagineries", University of Lancaster, 2009
Grenzziehungen und Raum in Theorien des Netzwerks und der Netzwerkgesellschaft, Tagung "Grenzperspektiven. Funktion und Gestaltung der Grenze im Wandel", Universität Bremen, 2009
Über Leben im Elend und der Exklusion. Theoretisierungsversuche extremer Armut in der frühen und neueren Soziologie, Tagung "Überleben", Zentrum für Literatur- und Kulturforschung Berlin, 2008
Wenn das Innen zum Außen wird. Soziologische Fragen an Giorgio Agamben, Tagung "Inklusion/Exklusion – Theoretische Perspektiven", Universität Basel, 2007