>

Home

>

Prof. Dr. Gabriele Schwab
Prof. Dr. Gabriele Schwab
Vita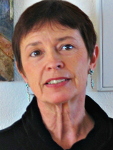 1976 Promotion/Ph.D. in Anglistik, Romanistik und Allgemeine Literaturwissenschaft an der Universität Konstanz
1982 Habilitation an der Universität Konstanz, Venia: Anglistik/Amerikanistik und Allgemeine Literaturwissenschaft
2009 Ph.D. in Psychoanalysis am New Center for Psychoanalysis, Los Angeles
Wichtige Stipendien
1985/1986 Heisenbergstipendium
1990/1991 Guggenheimstipendium
Akademische Stellen
seit 1986 Professorin für Komparatistik und Theorie an der University of California, Irvine
seit 2007 Chancellor's Forschungsprofessur
1996–2002 Director of the Critical Theory Institute, UC, Irvine
Gastprofessuren und Forschungsaufenthalte
1997/1998 Ludwig-Maximilians-Universität München
2001 Australian National University, Canberra, Australia
2009 Arizona State University
2009 Gastwissenschaftlerin an der Friedrich-Schlegel-Schule der Freien Universität Berlin
2010 Charlotte M. Craig Distinguished Visiting Professor in German Studies, Rutgers University
seit 1999 Honorary International Professor an der Beijing Language und Culture University
seit 2000 Honorary International Professor an der Shandong University, China
Forschungsschwerpunkte
Vergleichende Literatur des 20. und 21. Jahrhunderts; Amerikanische Literatur, einschließlich indianischer Literatur; Literatur- und Kulturtheorie; Philosophie und Literatur; Psychoanalyse; Trauma- und Gedächtnistheorien; Theorien zur politischen Ökologie.
Funktion innerhalb des Exzellenzclusters
Fellow am Kulturwissenschaftlichen Kolleg (Oktober 2012–August 2013)
Forschungsprojekt "Marginale Subjektivitäten: Ökopolitik und die Gespenster der Zukunft"
Abstract
Ausgewählte Publikationen
Monographien
Imaginary Ethnographies: Literature, Culture, and Subjectivity, Columbia UP, 2012.
Haunting Legacies: Violent Histories and Transgenerational Trauma, Columbia UP, 2010.
The Mirror and the Killer-Queen: Otherness in Literary Language, Indiana UP, 1996.
Subjects without Selves: Transitional Texts in Modern Fiction, Harvard UP, 1994.
Entgrenzungen und Entgrenzungsmythen: Zur Subjektivität im modernen Roman, Stuttgart, 1987.
Samuel Becketts Endspiel mit der Subjektivität: Entwurf einer Psychoästhetik des modernen Theaters, Stuttgart, 1981.
Editionen
Clones, Fakes and Posthumans: Cultures of Replication (with Philomena Essed), Rodopi UP, 2012.
Derrida, Deleuze, Psychoanalysis, Columbia UP, 2007.
Accelerating Possession: Global Futures of Property and Personhood, (with Bill Maurer), Columbia UP, 2006.
The Cultural Unconscious and the Postcolonizing Process, Routledge, 2004.