Prof. Dr. Peter Selb
Vita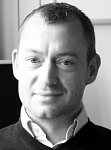 Study of political science, media and communication, economics and social history at the Universität Mannheim (M. A.).
1998-1999 Research Associate, Research Institute for Public Administration, Deutsche Hochschule für Verwaltungswissenschaften, Speyer.
1998-2002 Stipendiat des Training and Mobility for Researchers (TMR) Network "Political Representation in the European Union" in the EU's fifth research-framework program.
2003 Doctorate, Universität Zürich with a dissertation on the theme-setting effect of mass media in elections.
Director of Swiss national election studies, 2003 and 2007. At the same time instructor at the Universität Zürich.
January 2008- Assistant Professor for empirical methods of political science and management, Universität Kostanz.
Research Areas
Comparative research on elections, referenda, and representation
Function within the Center
Research project "Parliamentary Representation of Ethnic Minorities in the new Democracies of Eastern Europe" (with Julian Bernauer)
Selected Publications
Selb, Peter. 2008. 'A Deeper Look at the Proportionality-Turnout Nexus.' Comparative Political Studies.
Selb, Peter. 2007. 'Supersized Votes. Ballot Length, Uncertainty and Choice in Direct Legislation Elections.' Public Choice.
Selb, Peter. 2006. 'Multilevel Elections in Switzerland. Swiss Political Science Review.
Bühlmann, Marc, Sarah Nicolet und Peter Selb. 2006. National Elections in Switzerland. Sonderheft der Schweizerischen Zeitschrift für Politikwissenschaft.
Kriesi, Hanspeter, Romain Lachat, Peter Selb, Simon Bornschier und Marc Helbling. 2005. Der Aufstieg der SVP. Acht Kantone im Vergleich. Zürich: NZZ Verlag.