Prof. Dr. Juliane Vogel
Vita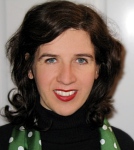 2007- Professor for modern German literature, Universität Konstanz
2006 Visiting Professor, Princeton University
2004 Visiting Scholar, University of California at Berkeley
2003-2004 Guest professor, Ludwig Maximilian Universität München
2001 Habilitation, Universität Wien
1987 Dissertation, Universität Wien
Research Areas
Scenographics of the drama in historical context and from a cultural-theoretical perspective; theater and gender studies.
19th and 20th century drama und opera.
Studies of avant garde and post-dramatic theater.
Reception of antique tragedy in German literature.
Studies of the aesthetic of interruption: montage procedures; text and cutting in modernism.
Selected Publications
Aus dem Grund. Auftrittsprotokolle zwischen Racine und Nietzsche, Paderborn: Fink 2018.
Auftreten. Wege auf die Bühne. Herausgegeben zusammen mit Christopher Wild, Berlin: Theater der Zeit 2014 (Recherchen, 115).
Die Furie und das Gesetz. Große Szenen in der Tragödie des 19. Jahrhunderts, Freiburg im Breisgau: Rombach 2002.
Elisabeth von Österreich. Momente aus dem Leben einer Kunstfigur, Frankfurt a.M.: neue kritik 1998.
"Die Verdächtigung des Wortgefechts. Dialogskepsis in der modernen Rezeption der Tragödie", in Bettine Menke/ Christoph Menke: Tragödie. Trauerspiel. Spektakel, Berlin: Theater der Zeit 2007, 18-30.
"Erscheinung und Zeremonie. Ankunftsszenen bei Hugo von Hofmannsthal", erscheint in: Inka Mülder-Bach (Hg.): Figuren der Ankunft. Aufgänge, Übergänge und Untergänge um 1900, München: Fink 2008.
Der Schein des Steins. Imaginäre Architektur auf der Bühne des 19. Jahrhunderts, in: Roland Innerhofer/Karin Harrasser (Hg.): Bauformen der Imagination. Ausschnitte einer Kulturgeschichte der architektonischen Phantasie, Wien: Löcker 2007, 31-47.