Julia Wagner
Vita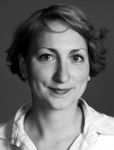 2000–2006 Study of German literature and of history at the Freie Universität Berlin.
2006 M.A.; thesis on Goethe's Wilhelm Meisters Lehrjahre.
Since Summer 2007 several research visits at the Deutsches Literaturarchiv, Marbach.
2008–2012 research associate, Center of Excellence "Cultural Foundations of Integration".
Spring 2009 research visits at the University of California at Irvine and Stanford University, California.
July 2009 Fellow of the Konstanzer Meisterklasse "Trauma and Narration".
August 2009 Fellow in Residence at the Kolleg Friedrich Nietzsche, Klassik Stiftung Weimar.

August 2011 Scholar of the IFK Summer Academy "Artistic research? Die Zirkulation von Erfahrung, Wissen und Erkenntnis in der Kultur"
Since October 2012 Research Associate, University Duisburg-Essen (Prof. Jörg Wesche).
Research Areas
literature of classical modernism, German literature of the eighteenth century, theory of science, history of the humanities
Function within the Center
Research project "Poetik und Hermeneutik. A Historical Epistemology of Research in the Humanities" (with Dr. Marcel Lepper, Christopher Möllmann, Alexander Schmitz)
Abstract
Selected Publications
Julia Amslinger (geb. Wagner): Eine neue Form von Akademie. "Poetik und Hermeneutik" – Die Anfänge. Paderborn: Wilhelm Fink 2017.
In preparation: Der Briefwechsel zwischen Karl Schlechta und Max Kommerell. ed. with Sebastian Haselbeck.

In preparation: Fragmentarisches Verstehen. Erscheint. In: Carsten Dutt (Hrsg.), Gadamers philosophische Hermeneutik und die Literaturwissenschaft, Heidelberg 2011.

zusammen mit Sebastian Haselbeck, Intellektuelle Insulaner. Karl Schlechta an Max Kommerell; ein Brief aus dem Jahr 1933. In: Geschichte der Germanistik (2011), 39/40 , S.77-84.

Anfangen. Zur Konstitutionsphase der Forschungsgruppe "Poetik und Hermeneutik". In: IASL, 1 (2010), S. 53–76.
"Die Glücklichen sind neugierig". Zehn Jahre Kolleg Friedrich Nietzsche. ed. with Stefan Wilke. Weimar: Verlag der Bauhaus-Universität, 2009.
Die Turmgesellschaft in Wilhelm Meisters Lehrjahre: Experiment und Archiv. Publikation des Goethezeitportals der Ludwig-Maximilians-Universität München 2007. Download
Selected presentations
2009 Konstanzer Meisterklasse "Trauma und Narration" (Vortrag "Trauma und Theorie")

Exzellenz im Dialog (Vortrag zu Poetik und Hermeneutik, gemeinsam mit Prof. Bernhard Kleeberg)

"Text und Interpretation. Hans Georg Gadamers philosophische Hermeneutik und die Literaturwissenschaft", Marbach, März 2010 (Vortrag "Gadamer, Jauß und die frühe Phase der Forschungsgruppe Poetik und Hermeneutik")

"Hans Blumenberg. Geschichte(n) des Wissens", Lübeck, Oktober 2010 (Vortrag "Ökonomie des Sagbaren. Blumenberg und Kracauer")

IFK-Sommerakademie "Artistic research?", Maria Taferl, August 2011 (Vortrag "Papiersammler und Pointenjäger. Poetik und Hermeneutik")

"Rhythmen der Moderne", Villa Vigoni, Oktober 2011 (Vortrag "Summe der Schnappschüsse und Urtümliche Bindekräfte. Ideenskizze zu Rodtschenko und Klages")