Prof. Dr. Elke Winter
Vita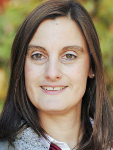 Since 2014 Member of the Royal Society of Canada's College of New Scholars, Artists and Scientists
Since 2013 Research Director, Cluster "Migration, Pluralism, and Citizenship", Centre for Interdisciplinary Research on Citizenship and Minorities (CIRCEM), University of Ottawa
2012 John Porter Tradition of Excellence Book Award, Canadian Sociological Association's best book of the year award for Us, Them, and Others: Pluralism and National Identity in Diverse Societies (UTP 2011)
Since 2011 Associate Professor (tenured), Sociology and Anthropology, University of Ottawa
2007–2011 Assistant Professor (tenure-track), Sociology and Anthropology, University of Ottawa
2007 (fall) Postdoctoral Fellow, Ethnicity and Democratic Governance Project (EDG), Queen's University, Kingston (on leave from the University of Ottawa); funded by the International Council for Canadian Studies (ICCS)
2006–2007 Postdoctoral Fellow, Institute for Migration and Ethnic Studies (IMES), Universiteit van Amsterdam; funded by the Social Sciences and Humanities Research Council of Canada
2005–2006 Postdoctoral Fellow, Institut für Sozialwissenschaften (ISW), Humboldt-Universität zu Berlin; funded by a the German Academic Exchange Service
2005 Ph.D. in Sociology, York University (Toronto) Thesis: Debating Binationalism and Multiculturalism in Canada: Toward a Sociology of Ethnic Pluralism
1998 M.Sc. in Sociology, Université de Montréal Thesis: Max Weber et les relations ethniques: race, ethnicité et nation;
1995 Vordiplom (B.A.) in Sociology, Economics & Political Science, Freie Universität Berlin
Research concentrations
Fields: political sociology, social theory, historical sociology,
Themes: ethnicity, nationalism, pluralism, citizenship, immigrant integration
Regions: Canada/Québec, Western Europe
Research Methods: interpretative methodologies, discourse analysis, comparative approaches
Function within the Center
Fellow of the Institute for Advanced Study Konstanz (November 2017–August 2018)
Visiting Scholar of the Institute for Advanced Study Konstanz (October 2018–July 2019)
Research project "The role of naturalization for immigrant and refugee integration: trajectories and expressions of citizenship"
Abstract
Selected Publications
Winter, E. (2011), Us, Them and Others: Pluralism and National Identity in Diverse Societies, Toronto: University of Toronto Press.
Winter, E.Debating Binationalism and Multiculturalism in Canada: Toward a Sociology of Ethnic Pluralism, Ottawa: Library and Archives Canada (Collection Theses/Thèses, ISBN: 0494116420), 2005, 469 p.
Winter, E., Max Weber et les relations ethniques. Du refus du biologisme racial à l'État multinational (Foreword: Philippe Fritsch), Québec: Les Presses de l'Université Laval, 2004.
Winter, E. & I. Previsic "Citizenship Revocation in the Mainstream Press: A case of Re-ethnicization?", Canadian Journal of Sociology, 42 (1), p. 55-82, 2017. online
Frost, C. & E. Winter. "Making and authenticating the citizen: naturalisation and passport applications in Canada", Review of European and Russian Affairs (RERA), Review of European and Russian Affairs (RERA), 11 (1), 2017. online
Winter, E."Rethinking Multiculturalism After its 'Retreat': Lessons from Canada", American Behavioral Scientist 59 (6) 637-657, 2015.
Winter, E. "Traditions of Nationhood or Political Conjuncture? Debating Citizenship in Canada and Germany", Comparative Migration Studies 2(1), 2014, 295-321. online
Winter, E., "(Im)Possible Citizens: Canada's 'Citizenship Bonanza' and its Boundaries", Citizenship Studies, 18(1), 2014, 46-62.
Winter, E., "Trajectories of Multiculturalism in Germany, the Netherlands, and Canada: In Search of Common Patterns", Government and Opposition, 45 (2), 2010, p. 166-186.
Winter, E., "How Does the Nation Become Pluralist?", Ethnicities, 7 (4), 2007, p. 483-515.
Contact
phone +1 (613) 562-5800 (6274)
e-mail elke.winter[at]uottawa.ca
website www.elkewinter.com
School of Sociological and Anthropological Studies
University of Ottawa
120, University Private (# 10 059)
Ottawa (ONT) K1N 6N5
Canada