Dr. Sebastian Wolf
Vita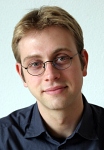 2001 Study of political science (minor subjects: law and pedagogy) Technische Universität, Darmstadt
2003 M.A., European Law, Universität des Saarlandes
2005 Dr. rer. pol., Technische Universität, Darmstadt
2002-2005 doctoral fellowship, German National Merit Foundation
Summer semesters 2003 and 2004, winter semester 2004/2005 Instructor, Technische Universität, Darmstadt
January-April 2004 Visiting scholar, Center for European Studies, New York University
February 2005-August 2007 section-consultant, German Research Institute for Public Administration, Speyer
August 2007- Research associate, chair for domestic politics and public administration, University of Konstanz
Research Areas
European integration (esp. adaptation of the governmental systems of member states to European norms); development of European constitution; questions of legitimation between law and politics; European atomic energy policies
Combating corruption (esp. international anti-corruption programs and their effects on national policies for combating corruption)
Function within the Center
Research project "Corruption and Integration. The International anti-Corruption Battle: Cultural Imperialism or an Integrating Step on the Path to a World Society?" (with Dr. Diana Schmidt-Pfister)

Selected Publications
Der Beitrag internationaler und supranationaler Organisationen zur Korruptionsbekämpfung in den Mitgliedstaaten, Speyerer Forschungsberichte 253, Speyer 2007.
Zur Zukunft des Euratom-Vertrags, in: integration, 29. Jg., Heft 4/2006, S. 297-302.
Die Modernisierung des deutschen Antikorruptionsstrafrechts durch internationale Vorgaben. Momentaufnahme und Ausblick, in: Neue Juristische Wochenschrift, 59. Jg., Heft 38/2006, S. 2735-2738.
Institutionelle Balance und Integration. Horizontale Machtverschiebungen in europäisierten Regierungssystemen, Baden-Baden 2006.
Demokratische Legitimation in der EU aus Sicht des Bundesverfassungsgerichts nach dem Urteil zum Europäischen Haftbefehlsgesetz, in: Kritische Justiz, 38. Jg., Heft 4/2005, S. 350-358.
(mit Heidrun Abromeit) Will the Constitutional Treaty Contribute to the Legitimacy of the European Union?, in: European Integration online Papers, 9. Jg., Nr. 11/2005. http://eiop.or.at/eiop/texte/2005-011a.htm
Revolution durch Integration: Supranationalismus und die Europäische Union, in: Fritzen, Florentine/Bavaj, Riccardo (Hrsg.): Deutschland – ein Land ohne revolutionäre Traditionen?, Frankfurt a.M. 2005, S. 179-195.
Das Demokratiedefizit der Europäischen Union aus Sicht der EMRK, in: Zeitschrift für europarechtliche Studien, 6. Jg., Heft 3/2003, S. 379-397.
Der Fall "LER" – Ein Paradigmenwechsel im Selbstverständnis des Bundesverfassungsgerichts? Der Vergleichsvorschlag und sein Beitrag zur pluralistischen Verfassungstheorie, in: Kritische Justiz, 35. Jg., Heft 2/2002, S. 250-253.
Ein Vorschlag zur Beseitigung von Repräsentations- und Legitimationsdefiziten in Rat und Europäischem Parlament. Überlegungen zur Debatte über die institutionelle Reform der EU, in: Politische Vierteljahresschrift, 41. Jg., Heft 4/2000, S. 730-741.
Contact
Tel. 07531 88-4803
E-Mail sebastian.wolf[at]uni-konstanz.de
Room C 306
University of Konstanz
Postanschrift
Lehrstuhl für Innenpolitik und öffentliche Verwaltung
Fachbereich Politik- und Verwaltungswissenschaft
Universität Konstanz
Fach D 89
Universitätsstr. 10
78457 Konstanz
Germany