Prof. Dr. Stefan Zahlmann
Vita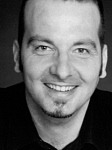 Studies at the Universität Münster: modern and contemporary history; medieval history; education; German literary studies; business administration
1995 M.A. (with distinction)
1998 Doctorate, University of Münster (summa cum laude). Dissertation on cultures of conflict Konfliktkulturen in West Germany and East Germany since the 1960s
2004-2007 Habilitation, modern and contemporary history; project on cultures of memory in Germany and the USA, University of Konstanz.
2007/2008 Substitute professorship, University of Konstanz (modern German history).
2008 Guest professorship, University of Vienna (history and theory of media cultures).
2008- unsalaried work for the German Academic Exchange Service selection commissions in Belarus (Minsk), Georgia (Tiflis) and Azerbaijan (Baku) in the area of the humanities and social sciences.
Since October 2010 professorship for the history and theory of media cultures (18th-20th century), University of Vienna.
Research Areas
German and American cultural history, German history after 1945 (focus on East Germany), Media history of the 19th and 20th century, Gender and corporeal history, History and culture of migrants to the USA
Function within the Center
Research project "War and Integration: German Americans and the American Wars of 1861-65, 1898 and 1917-18"
Abstract
Selected Publications
Die unvergessenen Feinde. Deutsch-Amerikaner zwischen Jahrhunderwende und Erstem Weltkrieg. In: Sabina Ferhadbegović, Brigitte Weiffen (Hg.): Bürgerkriege erzählen. Zum Verlauf unziviler Konflikte, Konstanz: Konstanz University Press, 2011, S. 91-112.

Autobiographische Verarbeitungen gesellschaftlichen Scheiterns. Die Eliten der amerikanischen Südstaaten nach 1865 und der DDR nach 1989. Köln, Weimar, Wien: Böhlau, 2009.
Vergnügen in der DDR. Oder: Unvereinbarkeit als Möglichkeit, in: Ulrike Häußer/Marcus Merkel (Hg.): Vergnügen in der DDR, Berlin 2009, S. 11-15.
Scheitern und Biographie. Die andere Seite moderner Lebensgeschichten, hg. zusammen mit Sylka Scholz; mit Beiträgen von Martina Kessel, Jürgen Reulecke, Sander L. Gilman, Utz Jeggle, u.a. Gießen 2005.
Körper und Konflikt. Filmische Gedächtniskultur in der BRD und DDR seit den sechziger Jahren, Berlin 2001.
Zahlreiche Artikel zur deutschen Zeitgeschichte, deutschen und amerikanischen Kulturgeschichte (Film, Werbung, Zeitungswesen) und zur Körper- und Geschlechtergeschichte.