>

Prof. Dr. Ulrik Brandes
Prof. Dr. Ulrik Brandes
Vita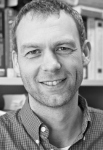 2003 Professor (C4), Universität Konstanz
2002-2003 Professor (C3), Universität Passau
2002 Habilitation in Informatik, Universität Konstanz
2001 PostDoc-Aufenthalt, University of Sydney
2000-2002 Wissenschaftlicher Assistent (C1), Universität Konstanz
1999 PostDoc-Aufenthalt, Brown University
1999 Promotion in Informatik, Universität Konstanz
1994-1999 Wissenschaftlicher Mitarbeiter, Universität Konstanz
1994 Diplom in Informatik, RWTH Aachen
Forschungsschwerpunkte
Algorithmik
soziale Netzwerke
Visualisierung
Funktion innerhalb des Clusters
Gast am Kulturwissenschaftlichen Kolleg der Universität Konstanz, Forschungsprojekt "Social Network Algorithmics"
Abstract
Ausgewählte Publikationen
Mit Sabine Cornelsen (Eds.): Proceedings of the 18th International Symposium on Graph Drawing (GD 2010). Lecture Notes in Computer Science, vol. 6502. Springer-Verlag, 2011.

Mit Thomas Erlebach (Eds.): Network Analysis: Methodological Foundations. Lecture Notes in Computer Science Tutorial, vol. 3418. Springer-Verlag, 2005.

Mit Jürgen Lerner: Structural Similarity: Spectral Methods for Relaxed Blockmodeling. Journal of Classification 27(3):279-306, 2010.

On Variants of Shortest-Path Betweenness Centrality and their Generic Computation. Social Networks 30(2):136-145, 2008.

Mit Daniel Delling, Marco Gaertler, Robert Görke, Martin Hoefer, Zoran Nikoloski und Dorothea Wagner: On Modularity Clustering. IEEE Transactions on Knowledge and Data Engineering 20(2):172-188, 2008.

Mit Marco Gaertler und Dorothea Wagner: Engineering Graph Clustering: Models and Experimental Evaluation. ACM Journal of Experimental Algorithmics 12, Article 1.1, 2007.

Mit Vladimir Batagelj: Efficient Generation of Large Random Networks. Physical Review E 71, 036113, 2005.

Mit Patrick Kenis und Dorothea Wagner: Communicating Centrality in Policy Network Drawings. IEEE Transactions on Visualization and Computer Graphics 9(2):241-253. IEEE Computer Society, 2003.

A Faster Algorithm for Betweenness Centrality. Journal of Mathematical Sociology 25(2):163-177, 2001.

Mit Dorothea Wagner: A Linear Time Algorithm for the Arc Disjoint Menger Problem in Planar Directed Graphs. Algorithmica 28(1):16-36, 2000.