Prof. Dr. Christopher Daase
Vita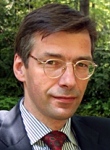 Christopher Daase ist seit dem Sommersemester 2009 Professor für Internationale Organisation an der Goethe-Universität Frankfurt im Rahmen des Exzellenzclusters "Die Herausbildung normativer Ordnungen" und zugleich Leiter des Programmbereichs "Internationale Organisationen und Völkerrecht" an der Hessischen Stiftung für Friedens- und Konfliktforschung.
Er studierte in Hamburg, Freiburg/Br. und Berlin Germanistik, Philosophie und Kunstgeschichte sowie Politikwissenschaft und promovierte 1996 an der Freien Universität Berlin mit einer Arbeit über unkonventionelle Kriegführung.
Als Fellow des SSRC-MacArthur Program in International Peace and Security absolvierte er ein Aufbaustudium an der Harvard University und verbrachte einen Forschungsaufenthalt bei der RAND-Corporation in Santa Monica, Kalifornien.
Von 1994 bis 2000 war er Wissenschaftlicher Mitarbeiter an der Arbeitsstelle Transatlantische Außen- und Sicherheitspolitik des Otto-Suhr-Instituts für Politikwissenschaft der FU Berlin.
Danach war er bis 2004 Senior Lecturer in International Relations an der University of Kent at Canterbury und Direktor des Programms für Internationale Konfliktanalyse an der Brussels School for International Studies.
Von 2004 bis 2009 war Christopher Daase Professor für Internationale Beziehungen am Geschwister-Scholl-Institut für Politikwissenschaft der Ludwig-Maximilians-Universität München.
Seit Januar 2005 ist er geschäftsführender Herausgeber der "Zeitschrift für Internationale Beziehungen".
Forschungsschwerpunkte
Theorien und Methoden der Internationalen Beziehungen (insbesondere Konstruktivismus, Praxistheorie, normative Theorien);
Sicherheitspolitik (insbesondere Guerillakriegführung und Aufstandsbekämpfung, Terrorismus und Antiterrorismus, nukleare Nichtverbreitung, Peacekeeping);
Internationale Organisationen (insbesondere Krise des Multilateralismus, informelle Institutionen, Völkerrecht);
Politikberatung (insbesondere Wissen und Nichtwissen, Risikoanalysen, Szenarienbildung).
Ausgewählte Publikationen
Global Security Governance: Kritische Anmerkungen zur Effektivität und Legitimität neuer Formen der Sicherheitspolitik, in: Schuppert, Gunnar Folke/ Zürn, Michael (Hrsg.), Governance in einer sich wandelnden Welt, PVS-Sonderheft 41/2008, 475-498 (mit Stefan Engert).
Den Krieg gewonnen, den Frieden verloren: Revolutionen und Konterrevolutionen in Military Affairs, in: Schörnig, Niklas/Helmig, Jan (Hrsg.), Die Transformation der Streitkräfte im 21. Jahrhundert, Frankfurt: Campus 2008, 249-269.
Knowns and Unknowns in the 'War on Terror': Uncertainty and the Political Construction of Danger, in: Security Dialogue, Vol. 38, No. 4, 2007, 411-436 (mit Oliver Kessler).
Clausewitz and Small Wars, in: Strechan, Hew/Herberg-Rothe, Andreas (Hrsg.), Clausewitz in the Twenty-First Century, Oxford: Oxford University Press 2007, 182-195.
Wissen, Nichtwissen und die Grenzen der Politikberatung – Über mögliche Gefahren und wirkliche Ungewissheit in der Sicherheitspolitik, in: Gunther Hellmann (Hrsg.): Forschung und Beratung in der Wissensgesellschaft. Das Feld der internationalen Beziehungen und der Außenpolitik, Baden-Baden, Nomos 2006, 189-212.
Die RAF und der internationale Terrorismus. Zur transnationalen Kooperation klandestiner Organisationen, in: Wolfgang Kraushaar, Hrsg. Die RAF und der linke Terrorismus, Band 1, Hamburg, Hamburger Edition, 2006, 905-929.
Democratic Peace – Democratic War: Three Reasons Why Democracies Are War-Prone, in: Anna Geis/Brock, Lothar/Müller, Harald (Hrsg.): Democratic Wars. Looking at the Dark Side of Democratic Peace, Houndmills, Palgrave, 2006, 74-89.
Crusader State? Wege und Abwege amerikanischer Demokratieförderung, in: Jochen Hils/Jürgen Wilzewski (Hrsg.): Defekte Demokratie – Crusader State? Die Weltpolitik der USA in der Ära Bush, Trier: Wissenschaftlicher Verlag, 2006, 237-271.
Das Ende vom Anfang des nuklearen Tabus. Zur Legitimitätskrise der Weltnuklearordnung, in: Zeitschrift für Internationale Beziehungen, Vol. 10, No. 1, 2003, 7-41 (peer reviewed).
Endogenizing Corporate Identities: The Next Step in Constructivist IR Theory, in: Constructivism and International Relations, ed. by Stefano Guzzini and Anna Leander, London and New York: Routlege, 2006, 118-139 (mit Lars-Erik Cedermann, zuerst veröffentlicht 2003).
Kleine Kriege – Große Wirkung. Wie unkonventionelle Kriegführung die internationale Politik verändert, Baden-Baden: Nomos Verlag (Weltpolitik im 21. Jahrhundert, Bd. 2), 1999 (Neuauflage 2009).