Anna G. Dolganov PhD
Vita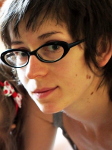 2001–2005 undergraduate at Harvard University (BA in Classics, magna cum laude)
2005–2006 recipient of the Gates Cambridge Scholarship, MPhil in Ancient History at King's College, Cambridge
2005 American School of Classical Studies in Athens (ASCSA) summer session in Greek archaeology and epigraphy
from 2006 PhD Candidate in Ancient History, Princeton University Department of Classics, Program in the Ancient World
2008, 2009 Venice International University Advanced Seminar in the Humanities (Venice, Italy)
2009 British School at Athens Seminar in Greek Epigraphy (Athens, Greece)
2009–2010 recipient of the Lucy Shoe Meritt Fellowship for study as a Regular Member of the American School of Classical Studies in Athens (ASCSA) year program (not accepted)
2011–2011 visiting researcher and instructor in Ancient History, Universität Konstanz Fachgruppe Geschichte
2011 Istituto Vitelli Nono Seminario Papirologico Technical Training Seminar in Papyrology (Florence, Italy)
2013 PhD in Ancient History anticipated from Princeton University
Research Concentrations
Social and cultural history of the Roman Empire; Roman law; documentary papyrology; early Christianity; Hellenistic and Roman Epicureanism; Greek and Latin historiography
Function within the Center
Visiting Scholar at the Institude for Advanced Study Konstanz (September 2013 – August 2014)
Research project "Legal Specialists in the Roman World, 31BC-300CE"
Selected Publications
"Generic discourse in Cicero's De legibus: constructing author and authority," Greece and Rome 55 (2008) 23–38.
"Potemkin villages in Egypt or a Severan campaign against divination? P. Coll. Youtie I 30," in: R. Haensch (ed.), Recht haben und Recht bekommen im Imperium Romanum. Das Gerichtswesen der Römischen Kaiserzeit und seine dokumentarische Evidenz. Munich (forthcoming in 2014).
"Humanitas in a Roman courtroom: the beneficium of justice in the province of Egypt," in M. Jursa, H. Baker (edd.), Administration, Law and Administrative Law: Comparative Studies in Imperial Bureaucracy and Officialdom. Vienna (forthcoming in 2014).
"The Epicurean republic of letters," in: I. Gildenhard, P. Ceccarelli (edd.), Configuring Communities: The Socio-Political Dimension of Ancient Epistolography. Oxford (forthcoming in 2014).
"Crimen laesae Romanae religionis: Tertullian on citizenship, empire and imperial religion," in C. Ando (ed.), Citizenship and empire in Europe 200-1900: The Antonine Constitution after 1800 years (forthcoming in 2014).