Dr. Zuzanna Dziuban
Vita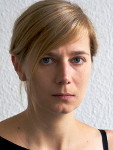 Since 2016 Postdoctoral Researcher at the School for Heritage, Memory and Material Culture, University of Amsterdam, iC-ACCESS /HERA project (until September 2019)
Since 2015 DAAD/Marie-Curie PRIME Fellow at the University of Konstanz/ School for Heritage, Memory and Material Culture, University of Amsterdam (until September 2017)
2014–2015 Postdoctoral fellow at the Vienna Wiesenthal Institute for Holocaust Studies (VWI)
2012–2014 Alexander von Humboldt Postdoctoral Fellow at the University of Konstanz (Research Group 'Geschichte & Gedächtnis') and Humboldt University of Berlin
2013–2014 Postdoctoral Fellow at the International Institute for Holocaust Research, Yad Vashem
2013 Research Fellow at the Herder-Institut für historische Ostmitteleuropaforschung in Marburg
2012 Postdoctoral Fellow at the Humboldt University in Berlin and the House of the Wannsee Conference, Fritz-Thyssen Stiftung fellowship
2012 Postdoctoral fellow at the University of Konstanz, Research Group 'Geschichte & Gedächtnis
2011–2012 DAAD Postdoctoral fellow at the University of Konstanz
2009–2012 PhD, Assistant Professor, Adam Mickiewicz University in Poznań, Department of Social Sciences, Institute of Cultural Studies
2009–2012 Lecturer at the School of Humanities and Journalism in Poznań
2009 PhD in Cultural Studies, Adam Mickiewicz University in Poznań, Poland, Department of Social Sciences, Institute of Cultural Studies
Research concentrations
cultural studies
memory studies
critical theory
Holocaust studies
dead body studies
Function within the Center
Visiting scholar at the Institute for Advanced Study Konstanz (October 2016–March 2017)
Research project "Deathscapes – Landscapes – Public Art: Material, Political and Affective Afterlives of Nazi Extermination Camps"
Selected publications
Books
The 'Spectral Turn': Jewish Ghosts in the Polish Post-Holocaust Imaginaire, Transcript: Bielefeld 2017. Forthcoming.
(Ed.), Mapping the 'Forensic Turn': Engagements with Materialities of Mass Death in Holocaust Studies and Beyond, New Academic Press: Vienna 2017. Forthcoming.
Obcość, bezdomność, utrata. Wymiary atopii współczesnego doświadczenia kulturowego [Foreignness, Homelessness, Loss: Dimensions of Atopia of the Contemporary Cultural Experience], Wydawnictwo Wydziału Nauk Społecznych UAM: Poznań 2009.
Articles and Book Chapters
(Re)politicising the Dead in Post-Holocaust Poland: The Afterlives of the Human Remains at the Belzec Extermination Camp. In: Human Remainsin Society: Curation and Exhibition in the Aftermath of Genocide and Mass-Violence, eds. E. Anstett, J-M. Dreyfus (Manchester University Press: Manchester 2016). Forthcoming.
Countermonument in Europe: Spatial Politics of Artistic Memory-Work. In: The Art of the Multitude: Jochen Gerz - Participation and the European Experience, eds. M. Manus, J. Vickery (Campus: Frankfurt/M 2016).
The Politics of Human Remains at the Peripheries of the Holocaust. In: Dapim – Studies on the Holocaust 29/3 (2015), special issue 'Last Stage of the Holocaust'.
From National to Transnational and Back: Memorial Sites in Transition. In: Studies on Authoritarianism and Totalitarianism 36/4 (2015).
Memory as Haunting. In: Hagar. Studies in Culture, Polity, and Identities Vol. 12 (2014), special issue 'Memory and Periphery'.
Polish Landscapes of Memory at the Sites of Extermination: The Politics of Framing. In: Space and the Memories of Violence: Landscapes Erasure, Disappearance, and Exception, eds. E. Schindel, P. Colombo (Pelgrave: London 2015).
Doświadczenie [Experience]. In Cultural Urban Studies, ed. E. Rewers (Narodowe Centrum Kultury: Warszawa 2014).