Flora Ferati
Vita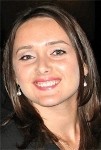 2002-2006 B.A. International Studies and Political Science (Honors): Graceland University, Iowa, USA.
2006-2008 M.A. Global and International Studies: University of California Santa Barbara, USA.
2007- Scholar, Erasmus Mundus Summer Institute: University of Leipzig, Germany.
2009-2012 Ph.D. Global Studies, University of Leipzig, Germany.
Research concentrations
Civil Society, Conflict Resolution, Human Rights, and World Order.
Function within the Center
Visiting Scholar of the Institute for Advanced Study Konstanz (April-August 2010)
Research project "Postwar Kosovo: The Role of Civil Society in Interethnic Reconciliation"
Publications
2008 February 22. Publication, "Chad Deserves Our Attention Now", Daily Nexus, Issue 82/ Volume 88, Santa Barbara, CA.
2007 May 24. Publication, "Santa Barbarans Seek Solutions to the Darfur Crisis", Independent, Santa Barbara, CA.