Dr. Beatrice Kobow
Vita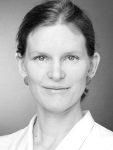 Beatrice Kobow promovierte 2005 im Fach Philosophie an der Universität Leipzig zu einem sprachphilosophisch-ästhetischen Thema. Sie arbeitete als Assistentin am Lehrstuhl in Leipzig und an der UC Berkeley. Hier war sie Mitbegründerin der Berkeley Social Ontology Group.
2008 bis 2009 konnte sie zum ersten Mal als Fellow am Kulturwissenschaftlichen Kolleg in Konstanz forschen. Sie verbrachte das Jahr 2010 an der EHESS in Paris und das Jahr 2015 als Fellow am Clare Hall College in Cambridge. Ein Dilthey-Fellowship der VW-Stiftung ermöglichte die Studien zur Konstitution des handelnden Ich zwischen kulturellem Hintergrund und selbst-reflexivem Cogito, die sie 2017 unter dem Titel "Denken Als-ob" in Leipzig als Habilitationsschrift eingereicht hat. Beatrice Kobow ist verheiratet und hat vier Kinder.
Forschungsschwerpunkte
Sprachphilosophie, Filmtheorie, Sozialontologie
Funktion innerhalb des Exzellenzclusters
Gast des Kulturwissenschaftlichen Kollegs Konstanz (Januar–März 2018)
Forschungsprojekt "Wert als Institution – Eine sozialontologische Neudefinition des Wert-Begriffs"
Ausgewählte Publikationen
Monographien
Denken Als-ob – Studien zur Konstitution des Selbst zwischen Reflexivem Cogito und Kulturellem Hintergrund, Mentis: Paderborn, forthcoming.
See What I Mean – Understanding Films as Communicative Actions, Mentis: Paderborn 2007.
Aufsätze
'What We have Forgotten About Fictions – On the Pragmatic Relevance of Different Heuristic Tools", book chapter in: Linguistic Rights in STEAM Education, ed. Zehlia Babaci-Wilhite, forthcoming (Routledge).
"How to Do Things with Fictions - Reconsidering Vaihinger for a Philosophy of Social Sciences", 'Philosophy of the Social Sciences', March 2014.
"Was ist als-ob?", in: Christian Schmidt (ed.), Können wir der Geschichte entkommen? Campus Verlag: Frankfurt 2013.
"Die Denkfigur des Als-Ob", in: Junge K., Gerster M., Binder W., Meyer K.-C. (eds.): Kipfiguren - Ambivalenz in Bewegung, Velbrück: Weilerswist 2013.
Editors' Introduction – The Background of Acting Together, in: Schmitz M., Schmid B., Kobow B. (eds.): The Background of Social Reality, Springer: Dordrecht 2012.
"The Boys carried the Piano Upstairs – Reconsidering Akratic Actions in Groups", in: Schmitz M., Schmid B., Kobow B. (eds.): The Background of Social Reality, Springer: Dordrecht 2012.
"Aber nein! mit der wahren Welt haben wir auch die scheinbare abgeschafft - Eine Diskussion der Als-Ob- Struktur von institutionellen Tatsachen, von Fiktionen und von aesthetischen (Lebens-)Entwürfen", in: Deutsche Gesellschaft für Ästhetik, Band 2, Experimentelle Ästhetik 2011 (online)