Fellowships and Selection Procedure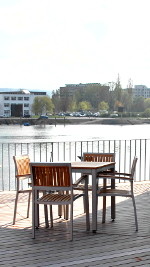 Fellowships
Three sorts of applications are possible:
Internal applications: Qualified applicants are scholars at the University of Konstanz.
Nominations for external candidates can be made by either members or cooperative partners of the Center; external scholars cannot apply individually.
Fellowships for qualified postdoctoral candidates are announced annually.
Application Deadlines
Internal applications and nominations for external candidates can be submitted at any time. As a rule the Center's plenum makes its decisions for the following year in the spring and fall.
Center members and cooperative partners at the university can find forms for both internal applications and nominations of external candidates in the Center's Intranet.
Researchers interested in the possibility of an Institute fellowship can either express their interest to Center scholars with whom they are in contact or consult us directly: exc16kolleg[at]uni-konstanz.de
Invited fellows will receive a stipend for a specified period, as a usual six months to a year, together with rental and (when appropriate) family subsidies. As an alternative, replacement costs can be granted to the fellow's home university. To receive the stipend, completion of all doctoral work is required.
Visiting Scholars
Alongside five- to ten-month fellowships, the Institute also offers the possibility of guest stays. Experience has shown that on pragmatic grounds two types of stay should here be considered:
Guests invited to the Institute for a three-week to three-month period, and who will be working during this time on a project positively evaluated by the Center's committees and financed by the Center. Otherwise than is the case with fellowships, in principle an extension of the guest stay is possible upon application.
Guests who arrive at their own expense and who are institutionally integrated into the Institute in agreement with the Center. If necessary, committee-decisions are requested.
Partners of fellows themselves engaged in scholarly work are likewise invited to make use of the Institute's infrastructure.
We consider an assessment of all submitted research projects to be an essential part of the application process. The Institute considers it important to support all its fellows and guests in their research to the same degree.