Live and Work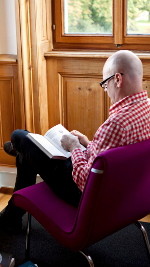 The main, eighteenth-century structure, known as the Bischofsvilla (Bishop's mansion), is located on the banks of the Rhine. In adjacent (Swiss) Kreuzlingen, fellows work in picturesque, nineteenth-century Schloss Seeburg on the banks of Lake Constance.
Both buildings offer modern study rooms. Rooms set aside for events will allow fellows and visiting scholars to hold seminars, workshops, and discussions on location.
Together the two buildings house the 4000-volume library bequeathed in 2007 by Wolfgang Iser—a distinguished professor of English literature at Konstanz and one of the university's founding members.
The Institute offers fellows and visiting scholars the following research services ( including in the period beyond presence at the Institute):
translation of book-chapters and essays for the sake of publication in English (or other languages),
funding of publication subsidies,
invitation of short-term guests,
support for workshops
Fellows and visiting scholars live in furnished apartments rented especially for the Institute and located in its proximity. These apartments are thus only a few minutes from the Institute by foot, bicycle, or bus.