>

Home

>

Prof. Dr. Philip Manow
Prof. Dr. Philip Manow
Vita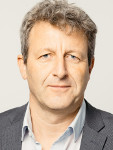 2014/2015 Fellow des Wissenschaftskollegs zu Berlin
Seit 2010 W3-Professur für Vergleichende Politische Ökonomie an der Universität Bremen
2007–2010 Professuren in Konstanz und Heidelberg
2002 Ruf auf eine Forschungsgruppenleitung (C3) am Kölner Max-Planck-Institut für Gesellschaftsforschung
1999–2000 Forschungsaufenthalt am Minda de Gunzburg Center for European Studies, Harvard University, Cambridge, MA
1990–2000 Doktorand und anschließend Wissenschaftlicher Mitarbeiter am Max-Planck-Institut für Gesellschaftsforschung, Köln
1985–1990 Studium der Politikwissenschaft in Marburg und Berlin
Forschungsschwerpunkte
Vergleichende Politische Ökonomie
Politisches System der Bundesrepublik
Politische Theorie
Funktion innerhalb des Exzellenzclusters
Fellow des Kulturwissenschaftlichen Kollegs Konstanz (November 2017–August 2018)
Forschungsprojekt "Die dargestellte Wirklichkeit der Politik und ihre Krise – Das Ende der Partei als Repräsentationsinstanz"
Abstract
Ausgewählte Publikationen
(i.E.) Welfare democracies and party politics: Explaining electoral dynamics in times of changing welfare capitalism. Oxford: Oxford University Press (zusammen mit Bruno Palier und Hanna Schwander).
(2017) Die zentralen Nebensächlichkeiten der Demokratie. Von Applausminuten, Föhnfrisuren und Zehnpunkteplänen. Hamburg/ Reinbek: Rowohlt Polaris.
(2017) Is Proportional Representation more favourable to the left? Electoral rules and their impact on elections, parliaments and cabinet formation (mit Holger Döring). In: British Journal of Political Science 47 (1), 149-164.
(2016) Mixed Rules, Mixed Strategies. Parties and Candidates in Germany's Electoral System. Essex: ECPR Press.
(2011) Politische Ursprungsphantasien – Der Leviathan und sein Erbe. München: Konstanz University Press
(2015) Workers, Farmers, and Catholicism: A History of Political Class Coalitions and the South-European Welfare State Regime. In: Journal of European Social Policy (Special Issue 25 Years of Esping-Andersen's 'Three Worlds of Welfare Capitalism') 25(1), 32-49.
(2014) Elektorale Koordination, legislative Kohäsion und der Aufstieg der modernen Massenpartei: Die Grenzen des Mehrheitswahlrechts im Deutschen Kaiserreich, 1890-1918. In: Politische Vierteljahresschrift 55(3), 518-554 (mit Valentin Schröder).
(2014) Religion and the gender vote gap. Women's changed political preferences from the 1970s to 2010. In: Politics & Society 42(2), 166-193 (mit Patrick Emmenegger).
(2010) In the King's Shadow. The Political Anatomy of Democratic Representation. Oxford: Polity.
(2009) Religion, Class Coalitions and the Welfare State (mit Kees van Kersbergen). New York: Cambridge University Press.
(2007) Im Schatten des Königs – Die politische Anatomie demokratischer Repräsentation. Frankfurt am Main: Suhrkamp (edition suhrkamp)
Kontakt
Tel. 0421 218 58580
E-Mail manow[at]uni-bremen.de
Universität Bremen
SOCIUM – Forschungszentrum Soziale Ungleichheit und Sozialpolitik
Mary Somerville Str. 5
28359 Bremen
Einblicke
Philip Manow über die mediale Inszenierung des präsidialen Körpers in der Demokratie.