>

Personen

>

Prof. Dr. H. Brinton Milward
Prof. Dr. H. Brinton Milward
Vita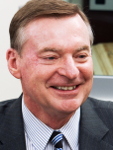 H. Brinton Milward holds the Providence Service Corporation Chair in the School of Government and Public Policy at the University of Arizona. He is a Fellow of the National Academy of Public Administration and in 2010 won the Distinguished Research Award given by the National Association of Schools of Public Affairs and Administration and the American Society for Public Administration.
His research interests revolve around networks and collaboration. His articles on "Dark Networks," have been widely cited for their application of network analysis and management theory to terrorist networks, human trafficking, drug smuggling, and other illegal activities. His particular foci have been the governance of dark networks, their trajectories, and accounting for their relative degrees of effectiveness and resilience.
Research concentrations
Terrorist and Criminal Networks
Interorganizational Networks
Public and Nonprofit Management
Function within the Center
Visiting scholar at the Institute for Advanced Study Konstanz (July 2014, July 2013)
research project "A Multi-Nodal World: Networks, Games and Narratives"
Publications
Victor Asal, H. Brinton Milward, and Eric Schoon, "When Terrorists Go Bad: Terrorist Organization Involvement in Drug Smuggling." International Studies Quarterly. Forthcoming in 2014.
Alexandra Joosse and H. Brinton Milward, "Organizational versus Individual Attribution: A Case Study of Jemaah Islamiyah and the Anthrax Plot," Studies in Conflict and Terrorism. Vol. 37(3) 2014: 237-257
Carboni, Julia and H. Brinton Milward. "Governance, Privatization and Systemic Risk in the Disarticulated State" Public Administration Review. Vol. 72, Special Issue, November/December, 2012: 536-544.
René Bakker, Jörg Raab and H. Brinton Milward. "A Preliminary Theory of Dark Network Resilience." Journal of Policy Analysis and Management. Vol. 31 (1), 2012: 33-62.
H. Brinton Milward and Jörg Raab, "Dark Networks as Organizational Problems: Elements of a Theory" International Public Management Journal. Vol. 9, No. 3 (November 2006): 333-360.
Jörg Raab and H. Brinton Milward, "Dark Networks as Problems" Journal of Public Administration Research and Theory Vol. 13, No 4 (October, 2003): 413-439.
Keith G. Provan and H. Brinton Milward, "Do Networks Really Work? A Framework for Evaluating Public Sector Organizational Networks" Public Administration Review, Vol. 61, No. 4 (July/August, 2001): 414-423.
H. Brinton Milward and Keith G. Provan, "Governing the Hollow State" Journal of Public Administration Research and Theory, Vol. 10, No. 2 (April, 2000): 359-379
H. Brinton Milward and Keith G. Provan, "Principles for Controlling Agents" Journal of Public Administration Research and Theory Vol. 8, No. 2 (April 1998): 203-221
Keith G. Provan and H. Brinton Milward, "A Preliminary Theory of Network Effectiveness: A Comparative Study of Four Mental Health Systems" Administrative Science Quarterly Vol. 40, No. 1 (March, 1995): 1-33