Prof. Michelle Szkilnik
Vita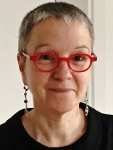 A former student of the Ecole Normale Supérieure de Paris, Michelle Szkilnik received a PhD in Medieval French Literature (1985) and a Habilitation à Diriger des Recherches (1999) from Paris 3 Sorbonne Nouvelle.
She has taught in universities in the United States (Smith College: 1985-1987, University of Wisconsin-Madison: 1987–1990, University of Wisconsin-Milwaukee: 1990–1992) and in France (Nantes: 1995–2005, Paris 3 Sorbonne Nouvelle: 2005–present).
She was a visiting professor in the department of French at Oxford and a fellow at Wadham College in 2010–2012. She was the director of the Centre d'Etudes du Moyen Age of Paris 3 (EA 173) from 2007 to 2014.
Research concentrations
Medieval French Literature, especially narrative literature (12th to 15th c.), in verse or in prose.
Arthurian romances
late medieval romances
hagiography (lives of the desert fathers)
chivalry and war in the late middle ages (Christine de Pizan, Jean de Bueil, Alain Chartier...)
Functions within the Center
Visiting Scholar of the Institute for Advanced Study Konstanz (January–June 2016)
Research project "A Discourse on Glory, War and Violence: The Reception of Jean de Bueil's Jouvencel"
Selected Publications
L'Archipel du Graal, Genève, Droz, 1991.
Perceval ou le Roman du Graal de Chrétien de Troyes, Paris, Gallimard, foliothèque, 1998.
Jean de Saintré: une carrière chevaleresque au XVe siècle, Genève, Droz, 2003.
L'Histoire des Moines d'Egypte de Wauchier de Denain, suivie de La Vie de Saint Paul le Simple, édition critique, Genève, Droz (Textes Littéraires Français, 427), 1993, 192 p.
Le Roman de Tristan en Prose, t. 6, édition critique avec Emmanuèle Baumgartner, Genève, Droz (Textes Littéraires Français, 437), 1993, 475 p.
Le Roman de Tristan en Prose, tome 6, traduit de l'Ancien Français, avec introduction et notes, Editions Universitaires du Sud, Toulouse, 1996, 260 p.
Meraugis de Portlesguez de Raoul de Houdenc, édition critique et traduction, Paris: Champion (Classiques Champion), 2004, 538 p.
Le Pas du Perron Fée édition critique du Pas du Perron Fée, en collaboration avec Chloé Horn et Anne Rochebouet, Paris, Champion (Classiques Français du Moyen Âge), 2013.
Des Tristan en vers au Tristan en prose. Hommage à Emmanuèle Baumgartner, with Laurence Harf-Lancner, Laurence Mathey-Maille and Bénédicte Milland-Bove, Paris: Champion, 2009.
Rencontres du vers et de la prose. Conscience théorique et mise en page, eds. C. Croizy-Naquet and Michelle Szkilnik, Turnhout, Brepols, 2015.