Dr. Kacper Szulecki
Vita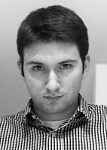 2013– Dahrendorf Postdoctoral Fellow at the Hertie School of Governance, Berlin.
2008–2012 Research associate at the Center of Excellence "Cultural Foundations of Integration", University of Konstanz. In November 2012 defended his dissertation on "The Figure of the 'Dissident'" (summa cum laude).
2008 Research Internship at the Institute for Environmental Studies (IVM), VU University, Amsterdam.
2007–2008 M.Sc. in Political Science at the Vrije Universiteit Amsterdam. Specialization: International Relations and Transnational Governance. Master thesis: "A Not-so-innovative Innovation. Explaining Variation in Sustainable Energy Partnerships Performance from a Comparative Perspective".
2006–2007 Study International Relations at the Oslo University.
2003–2007 Studies in International Relations, Sociology and Linguistics at the College of Inter-faculty Individual Studies in the Humanities (MISH), Warsaw University.
2003–2004 Social Psychology at the Warsaw School of Social Psychology (SWPS).
Research Areas
Dissidentism and democratic opposition, transnational advocacy networks, interpretative studies of politics, Central Europe, theories of International Relations, ethno-nationalist politics and conflicts.
Function within the Center
Ph.D. candidate in the research group "Idioms of Social Analysis"
about the research group
Research project "The Figure of the 'Dissident'"
Abstract
Selected Publications
'Hijacked Ideas: Human Rights, Peace and Environmentalism in Czechoslovak and Polish Dissident Discourses', East European Politics and Societies 25 (2) May 2011, pp. 272 - 295.
'Neophyten, Häretiker, Dissidenten: Polnische Linksintellektuelle und (Anti-)Kommunismus' Jahrbuch für Historische Kommunismusforschung 2011, pp. 61-88, April 2011.
'Smashing Concrete With Words. The Central European 'dissidents', their representations and discourses.' In: Civil Society in Central and Eastern Europe before and after the End of Socialism, by Sabine Fischer and Heiko Pleines (eds.). Stuttgart: Ibidem Verlag, 2010.
'The River that Divided a Nation: Rhetoric, Activism and the Political Controversy over the Rospuda River Valley in Poland', ESPRi Working Paper No. 1, ESPRi: Wrocław. February 2010. With J. Ziemińska. Available at: www.espri.org.pl
'Environmental Peacebuilding: Transnarodowe działania na rzecz ochrony środowiska jako platforma zaawansowanego zapobiegania konfliktom na Bliskim Wschodzie', in: Kostecki, Wojciech (ed.). 2011, forthcoming. Zaawansowane zapogieganie konfliktom, Warszawa: SWPS. With J. Szulecka. Draft available at: http://papers.ssrn.com/sol3/papers.cfm?abstract_id=1810623
'The Good, the Bad and the Even Worse: Explaining Variation in the Performance of Energy Partnerships', GLOGOV Working Paper 39, GLOGOV: Amsterdam et al. January 2010. With Frank Biermann and Philipp Pattberg. Available at: www.glogov.org
'Assessing the Role and Relevance of the Renewable Energy and Energy Efficiency Partnership (REEEP) in Global Sustainability Governance', In: D. Vollmer (ed.) Enhancing the Effectiveness of Sustainability Partnerships, National Academies Press: Washington D.C, 2009, pp. 81-108. With Philipp Patberg, Sander Chan and Aysem Mert.
'"Partnerstwa dla zrównoważonego rozwoju" jako nowa forma współpracy transnarodowej', Stosunki Międzynarodowe – International Relations, 40(3-4), 2009, pp. 91-112.
Selected Reviews
"Padraic Kenney, 1989: Democratic Revolutions at the Cold War's End. A Brief History with Documents", Stosunki Międzynarodowe – International Relations, 43(1) May 2011: 353-356.
"The Revolution That 'Meant All Things to All People': a Comparative Review" (review essay on D. Ost's monograph The Defeat of Solidarity. Anger and Politics ni Postcommunist Eastern Europe and G.J. Beyer's Recovering Solidarity. Lessons from Poland's Unfinished Revolution), H-Net, November 2010.
Jak wyciosać Okrągły Stół na nowo? – on P. Codogni's monograph Okrągły Stół, czyli polski Rubikon, "Kultura Liberalna", 20.07.2009.
Selected Conference Papers
"Human Rights the Central European Way: Investigating Localization Strategies and Practices of Opposition Movements of the 1975-90" at the conference "Recasting the Peaceful Revolution of ´89. Roots and Legacies" Stockholm, 22-24.10.09.
"Localization Strategies of Human Rights Traditions by Central European Dissidents: a Framework for Research" at the conference "Europe Before and After 1989. The revolutions of 1989 and the crisis of 2009" of the 1989 Research Network, Padua, 10-12.06.09.
"The Other Europe: how the West created the Dissidents" at the conference "Intellectuals, Empire and Civilizations in 19th and 20th centuries", panel – "Ambivalent Encounters with the 'Other': the British, Soviet and American Empires Revisited", Warsaw University, 21-23.06.2007.