Prof. Rudolf Schlögl receives award for the Reinhart Koselleck Project
4. December 2009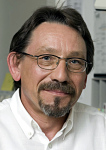 Professor Rudolf Schlögl, a historian at the University of Konstanz and speaker of the Center of Excellence "Cultural Foundations of Integration," was awarded on 3 December 2009 by the German Research Foundation [DFG] funding in the framework of the "Reinhart Koselleck Projects." These funds are awarded to scholars who are working on "particularly innovative or risky projects." The grant support is 500,000 EUR and is awarded for a period of five years.
Until now, no humanities project had been funded as a Reinhart Koselleck Project. This project's title indicates how "innovative and risky" it is: "Socialization Among Those Present [Anwesende] and Their Transformation: A Social History and Theory of Early Modern Europe." "This is a great honor for historical studies," said Prof. Schlögl. "I am pleased for the recognition that risky research is also being conducted in the humanities. I understand this grant as a distinction for an unconventional theme, and I am delighted that research on this topic will become significantly easier in the coming years."
There is currently no consistent idea guiding research on the society of early modern Europe. Schlögl's project aims to describe this society in its epochal unity while at the same time grasping the defining transformational processes that distinguish it. The starting point for this research is a model of communication among those present [Anwesende] grounded in communications and media theory. This theoretical approach means we have to reconsider current models of transformation. Taking the place of development are emergence, complexity, and contingency. The project will thus focus on the media's transformation of early modern society in the fullest sense, and it will also link that society's self-descriptions to a history of structures. Where the project takes risks is in its conceptual claims, its unresolved theoretical questions, the links between theorizing and empirical research, and the challenge of adequate representation.
Prof. Dr. Rudolf Schlögl studied German, history, and social studies at the Universities of Erlangen-Nuremberg and Augsburg, completing his doctorate in 1986 on the subject of "The Upper Bavarian Peasant Economy and the Territorial State in the 17th Century." In 1992, he completed his habilitation in modern history. Since 1994, he is a Professor of Modern History at the University of Konstanz and since 2000 speaker of the Cultural Scientific Research Program "Norm and Symbol: The Cultural Dimension of Social and Political Integration" established by the DFG. Since 2006, Prof. Schlögl is speaker of the Center of Excellence "Cultural Foundations of Integration," also funded by the DFG.
Prof. Schlögl's research areas include: rural society in early modernity; piety, church, and social order (including relevant aspects of gender history); the development and secularization of the premodern systems of knowledge and interpretation; state formation and political rule in early modernity; aristocratic society and court life; the political culture of early modern urbanity; history and social scientific theory formation; and communication and media.
---