Heiner Blum's "Transfer" will be realized as "Art on site" project at the University of Konstanz
24. April 2009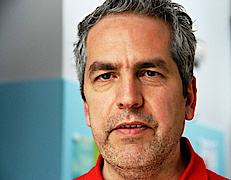 As an artist, Blum works mainly in view of situations and contexts. His project "Light Baggage" will be developed together with students, faculty, and fellows at the Center. Here participants will explore scenarios of transition—how they reveal themselves globally, historically, and in personal situations, and how they are repeatedly thematized in art and literature.
With his concept of tying art in its processual character to the scholarly-scientific problems focused on in the "Cultural Foundations of Integration" Center of Excellence, Heiner Blum won the competition, sponsored by the state of Baden-Württemberg, for "Art in Construction" at the new Y-building of the University of Konstanz. As agreed on with the state, plans are for Blum to transform the results of the shared project into a concrete work of art before construction of the Y-building is completed at the end of 2009. The means and media he uses are still open.
"In Konstanz we've always tried to do something special," stated the Konstanz art professor Felix Thürlemann at the project-presentation at the university on 22 April. "We wanted to have someone whose profile involves making art that isn't afraid of debate." Thürlemann noted that the idea of process-oriented art in construction, emerging in cooperation with the university, is both new and points toward the future. According to a representative of the Center of Excellence, the fact that artists could not offer a specific work in the competition posed real difficulties.
As Artist in Residence, Heiner Blum will also teach at the Center and be regularly present to meet with students and faculty. In the framework of the seminar in which the project-idea will be developed, a depot will be set up for contributions by students; eventually this will be allowed to circulate.
Heiner Blum's last projects were realized at the University of Frankfurt and the Center for Art and Media Technology in Karlsruhe. Born in 1959 in Stuttgart, he studied visual communication at the Gesamthochschule Kassel, moving from photography (Otto Steinert Prize of the German Society for Photography, 1981; work as a photo-journalist for widely-known magazines) to free artistic activity. Text installations have consistently played a central role in Blum's work. In addition, he has increasingly focused on a process-oriented art that operates beyond the museum's "white cube": an art tied to everyday life and taking up musical and other impulses (Robert Johnson Technoclub, Offenbach).
---