Wounds of Society
14. July 2009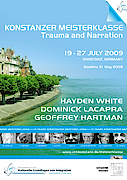 How do societies come to terms with violence? What traces do traumatic events leave in the collective memory of victims and perpetrators? Can a collective trauma be properly narrated and worked through? On 19 July, this year's Konstanz master class (Meisterklasse) on "Trauma and Narration" will be opened with a lecture by Dominick LaCapra (of Cornell University).
The public is cordially invited to take part in this opening event in celebration of the ten year anniversary of the Meisterklasse in the Astoria-Hall of the Konstanz Volkshochschule.
The theme of this Konstanz master class, which celebrates its tenth anniversary this year and takes place from July 19 to 27 in the Volkshochschule building, is a volatile one: war, terror, torture, and genocide. Such extreme forms of violence leave deep traces, not only in individuals, but also in affected communities; this can be signified as collective trauma. On the question of how to represent and narrate such trauma, the three invited masters—Geoffrey Hartman (Yale), Dominick LaCapra (Cornell), and Hayden White (Santa Cruz)—have done groundbreaking work in literary and historical studies. In dialogue with the social sciences, this master class will deal with the crises of how communities understand themselves culturally and how it might be possible to cope with trauma, even across generations. In case studies such as the Holocaust, the Katyn massacre, slavery, the military dictatorship in Argentina, or the recent Balkan War, the Meisterklasse will examine certain patterns of coping with collective violence, without assuming that the individual cases are comparable.
In 1999, the Konstanz sociologist Bernhard Giesen established the innovative (and now successfully instituted) format of this conference, which takes place every summer. The focus is on exchange between generations of researchers. This year as well, twenty-five doctoral students and postdocs from Germany and abroad have been selected to engage in discussion with the invited masters. The recently deceased Lord Dahrendorf was the supporter and patron of the master class.
The conference takes place for the third time in the framework of the Center of Excellence, "Cultural Foundations of Integration." The topic is linked to the opening session of the Center, entitled "Civil Wars, Violence, Trauma, Intervention," which took place from 29 to 30 November 2007 at the Inselhotel in Konstanz.
---