>

Home

>

Dr. Cecilia Cristellon
Dr. Cecilia Cristellon
Vita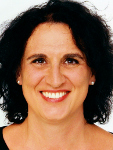 1997 Abschluss des Studiums der Geschichte, Literatur und Philosophie an der Universität Trient und an der Universität Leipzig, MA in Geschichte der Frühen Neuzeit
1999–2000 Forschungsstipendium der Michele Pellegrino Stiftung in Turin
2000–2011 Ausbildung als Archivarin (Staatsarchiv Bozen)
2001–2005 Promotion am Europäischen Hochschulinstitut in Florenz
2004 Fellowship for Individual Research an der Newberry Library, Chicago
2004–2005 Stipendiatin des Instituts für Europäische Geschichte, Mainz und der Universität Pisa
2006-2008 Wissenschaftliche Mitarbeiterin an der Universität Münster (Seminar für Mittlere und Neuere Kirchengeschichte) im DFG-Projekt "Römische Inquisition und Indexkongregation", mit Verantwortung für das systematische Repertorium zur Inquisition und Buchzensur im 18. Jh.
2008–2012 Wissenschaftliche Mitarbeiterin am DHI Rom (FrüheNeuzeit)
2012–2013 Max-Weber-Fellow am Historischen Seminar der Goethe-Universität Frankfurt am Main
2013 Habilitation (Abilitazione scientifica nazionale in storia moderna, Italia)
2013–2015 Mitarbeiterin im EXC "Die Entstehung normativer Ordnungen", Goethe-Universität Frankfurt am Main
Forschungsschwerpunkte
Europäische Religions- und Rechtsgeschichte der Frühen Neuzeit
Geschichte und Kultur Italiens in der Renaissance
Buchzensur und religiöse Devianz
Ehe- und Familiengeschichte
Geschichte des Körpers und der Sexualität
Römische Inquisition und Römische Kongregationen
Mischehen, Übergangsriten und die Steuerung der religiösen Pluralität
Funktion innerhalb des Exzellenzclusters
Fellow des Kulturwissenschaftlichen Kollegs Konstanz (Oktober 2015–September 2016)
Forschungsprojekt "Die Römische Kurie, religiöse Minderheiten und die Steuerung der religiösen Pluralität im Spiegel der Übergangsriten: globale Herausforderungen und lokale Antworten (1500-1800)"
Abstract
Ausgewählte Publikationen
Cristellon, C., La carità e l`eros: Il matrimonio, la Chiesa, i suoi giudici nella Venezia del Rinascimento (1420-1545). Bologna, Il Mulino, 2010. 317 S. (Quaderni dell'Istituto storico italo-germanico in Trento, Monografia 58)
Englische Übersetzung des zuvor genannten: Charity and Eros: Marriage, the Church, and its Judges in Renaissance Venice (1420-1545), trans. by Celeste McNamara, Series "Early Modern History: Society and Culture" ed. by Rab Houston and Edward Muir. (im Druck)
Cristellon, C. (ed.): Mixed Marriages in Europe: The Politics and Practices of Religious Plurality between Fourteenth and Nineteenth Centuries, Aldershot (Ashgate), (St. Andrews Series in Reformation History), in Vorbereitung, Vertrag liegt vor.
Cristellon C. (2014): Due fedi in un corpo. Matrimoni misti fra delicta carnis, scandalo, seduzione e sacramento nell'Europa di età moderna. In: Quaderni storici, No. 1, 2014 (April), Special issue "Corpi familiari", Guest editors: M. Lanzinger, D. Rizzo, pp. 41-70.
Cristellon C., Seidel Menchi S. (2013): Religious Life. In: A Companion to Venetian History, 1400-1797, ed. by Dursteler E. (Leiden, Boston: Brill), pp. 379-419. (Cristellon pp. 379-398)
Cristellon C. (2013): 'Unstable and Weak-Minded' or a Missionary? Catholic Women in Mixed Marriages (1563-1798). In: Gender Difference in European Legal Cultures. Historical Perspectives. Festschrift für Heide Wunder, ed. Gottschalk K. (Stuttgart: Franz Steiner Verlag), pp. 83-93

Cristellon, C. (2012): Die Römische Inquisition und die Frage der Mischehen in Deutschland (1630-1798). In: Tribunal der Barbaren? Deutschland und die Inquisition der Frühen Neuzeit, Hg. Burkardt, A., Schwerhoff, G., (Konstanz: UVK), S. 277-306.

Cristellon C. (2010): Public Display of Affection: The Making of Marriage in the Venetian Courts before the Council of Trent (1420-1545). In: The Erotic Cultures of Renaissance Italy, Ed. by Matthews-Grieco S. (Aldershot: Ashgate), pp. 173-197.

Cristellon C. (2009): Does the Priest Have to Be There? Contested Marriages Before Roman Tribunals. Italy, Sixteenth to Eighteenth Centuries. In: Österreichische Zeitschrift für Geschichtswissenschaften, 3, 2009, pp. 10-30.
Cristellon C. (2008): Marriage and Consent in Pretridentine Venice: Between Lay Conception and Ecclesiastical Conception, 1420-1545. In: The Sixteenth Century Journal, 39, 2008, pp. 389-418.

Cristellon C. (2003): L'ufficio del giudice: mediazione, inquisizione, confessione nei processi matrimoniali veneziani, 1420-1532. In: Rivista Storica Italiana, 3, 2003, pp. 851-898.