>

Home

>

Prof. Dr. Julia Eckert
Prof. Dr. Julia Eckert
Vita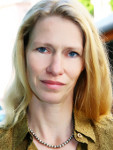 Julia Eckert studierte Ethnologie, Politikwissenschaft, Soziologie und öffentliches Recht in Freiburg und Berlin.
2000 promovierte sie mit einer Arbeit zu einer Hindunationalistischen Bewegung an der Freien Universität Berlin.
Nach einer Lehranstellung am Institut für Sozialwissenschaften an der Humboldt Universität zu Berlin ging sie 2001 zur Projektgruppe "Rechtspluralismus" am Max Planck Institut für ethnologische Forschung in Halle.
2005 wurde sie dort Forschungsgruppenleiterin der Forschergruppe "Law against the state, or the juridification of Protest". Sie forschte in Usbekistan, Afghanistan und Indien.
2009 habilitierte sie sich an der Martin-Luther-Universität Halle/Wittenberg im Fach Ethnologie.
Sie war Mitglied der Jungen Akademie, Forschungsfellow an der LSE und am Robert Schuman Centre des European University Institute. Sie ist Mitbegründerin des Law and Social Science Netzwerkes in Südasien, und Herausgeberin von "Anthropological Theory".
Seit 2009 ist sie Professorin für Sozialanthropologie an der Universität Bern.
Forschungsschwerpunkte
Rechtsanthropologie: "travelling models" und Verbrechen und Strafen
Anthropologie des modernen Staates und der Bürokratie
Anthropologie der Demokratie
Zuschreibung von Verantwortung
Konflikt und Protest
Ausgewählte Publikationen
2012 Law against the State: Ethnographic Foray's into Law's Transformations" Cambridge: Cambridge University Press (ed. together with Brian Donahoe, Christian Strümpell and Zerrin Özlem Biner)
2012 "Theories of Militancy in Practice: Explanations of Muslim Terrorism in India"; in: Social Science History Journal, 36, 3, 47-72.
2011 Subjects of Citizenship; Special Issue of "Citizenship Studies", Vol. 15, 3.
2009 Rules of Law and Laws of Ruling, Aldershot: Ashgate. (zusammen mit Keebet von Benda-Beckmann und Franz von Benda-Beckmann).
2008 The Social Life of Anti-Terrorism Laws; The war on terror and the classifications of the 'dangerous other', Bielefeld: transcript.
2006 "From Subjects to Citizens: Legalisation from Below and the Homogenisation of the Legal Sphere", in: Journal of Legal Pluralism, 45-75.
2004 "Anthropologie der Konflikte; Georg Elwerts konflikttheoretische Thesen in der Diskussion", Bielefeld: transcript.
2003 "The Charisma of Direct Action: Power, Politics and the Shiv Sena", Delhi: Oxford University Press.
1996 "Usbekistan auf dem Weg von Marx zu Timur", Münster: Lit Verlag.