>

Home

>

Prof. Dr. Christine Godt
Prof. Dr. Christine Godt
Vita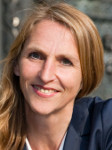 Seit 2010 Lehrstuhl für Europäisches und Internationales Wirtschaftsrecht an der Universität Oldenburg; Direktorin der Hanse Law School Oldenburg
2008–2009 Lehrstuhlvertretungen an der LMU München und der CvO-Universität Oldenburg
1997 Habilitation, venia legendi für Zivilrecht, Wirtschaftsrecht, inkl. Internationalem Wirtschaftsrecht, Geistiges Eigentum, (Habilitationsschrift: Eigentum an Information, Mohr Siebeck 2007)
1997–2007 Wissenschaftliche Mitarbeiterin am Zentrum für Europäische Rechtspolitik an der Universität Bremen, inkl. SFB 597 (Projekt: Freihandel [WTO/EU] und Sozialregulierung)
1997 Zweites Staatsexamen Berlin
1995 Promotion an der Universität Bremen (Dissertation: Haftung für Ökologische Schäden, Duncker&Humblot 1997)
1991 Erstes Staatsexamen Berlin
1984–1991 Studium der Rechtswissenschaften und der Geschichte in Tübingen, Berlin, Washington DC (USA).
Forschungsschwerpunkte
Rechtsvergleichendes Sachenrecht und Geistiges Eigentum; moderne Formen der Regulierung; Privates und transnationales Umweltrecht; Europäisches Mehrebenensystem.
Ausgewählte Publikationen
als Hrsg.: Regulatory Property Rights. The Transforming Notion of Property in Transnational Business Regulation. Leiden: Brill 2016.
Economic Instruments in Environmental Policies: Expectations met?, in: O. Dilling/T. Markus (Hrsg.), Ex Rerum Natura Ius? Sachzwang und Problemwahrnehmung im Umweltrecht, Nomos 2014, S. 121–141.
Intellectual Property & European Fundamental Rights, in: Hans Micklitz (Hrsg.), Constitutionalization of European Private Law, Oxford: Oxford University Press, 2014, S. 210–235.
Networks of Ex Situ Collections in Genetic Resources, in: Gerd Winter/Evanson Kamau (Hrsg.), Common Pools of Genetic Resources, Abingdon/Oxon: Routledge 2013, pp. 246–267.
The functional comparative method in European Property Law, European Property Law Journal (EPLJ), Special Issue, 2013 (Vol 2), pp. 73-89 (commented by S. van Erp, EPJL 2013, 90–94).
C. Godt und A. Clarke, Comparative Property Law: Collective Rights within Common law and Civil Law Systems, in: Godt (Hrsg.), Cross Border Research and Transnational Teaching under the Treaty of Lisbon – Hanse Law School in Perspective, Oisterwijk: Wolf Publ. 2013, S. 61–81.
Equitable Licenses – Conceptualising a new model – Resolving some early legal problems, GRUR Int. 2011, S. 377–385.
Differential Pricing in Patent Protected Pharmaceuticals for Life-Threatening Infectious Diseases inside Europe - Can Compulsory Licenses be Employed?, in: C. Godt (Hrsg.), Differential Pricing for Patent Protected Life Saving Medicines, Nomos, Baden-Baden, 2010, pp. 25–76.
Europäische Umwelthaftung – (k)ein Beispiel präventiver Verhaltenssteuerung durch Haftungsrecht? in: A. C. Ciacchi/C. Godt/P. Rott/J. Smith (Hrsg.), Haftungsrecht im Dritten Millenium - Liber Amicorum für Gert Brüggemeier, Nomos, Baden-Baden, 2009, S. 413–430.
Regulatory Paradoxes – The case of agricultural innovation, in: Technology and Competition – Technologie et Concurrence: in: J. Drexl/C. Godt/R. Hilty/B. Remiche/ L. Boy (Eds), Larcier (De Boek), Brüssel, 2009, S. 99–118.
Eigentum an Information – Patentschutz und allgemeine Eigentumstheorie am Beispiel genetischer Information, Schriftenreihe "Geistiges Eigentum und Wettbewerbsrecht", Mohr Siebeck, Tübingen, 2007.