>

Home

>

Prof. Dr. Elahe Haschemi Yekani
Prof. Dr. Elahe Haschemi Yekani
Vita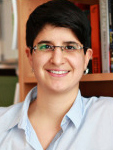 seit 2014 Juniorprofessorin für Englische Literaturwissenschaft an der Universität Flensburg
2012–2014 Universitätsassistentin (Postdoc) am Institut für Anglistik der Leopold-Franzens-Universität Innsbruck
2012 Vertretung der Juniorprofessur für Cultural Studies Großbritanniens an der Universität Potsdam
2011 Gastprofessur für Neuere Englische Literatur an der Humboldt-Universität zu Berlin
2011 Visiting Scholar am Center for the Study of Gender and Sexuality (CSGC) an der New York University (NYU)
2009 Promotion, Humboldt-Universität zu Berlin
2007–2012 Wissenschaftliche Mitarbeiterin am Lehrstuhl für Englische Kulturwissenschaft und Kulturgeschichte, Institut für Anglistik und Amerikanistik der Humboldt-Universität zu Berlin
2005–2007 Promotionsstipendiatin des DFG-Graduiertenkollegs "Geschlecht als Wissenskategorie" an der Humboldt-Universität zu Berlin
1998–2004 Studium der Anglistik/Amerikanistik und Theaterwissenschaft/Kulturelle Kommunikation an der Humboldt-Universität zu Berlin und University of Westminster, London
Forschungsschwerpunkte
Der anglophone Roman von seinen Anfängen bis in die Gegenwart, post-WWII Theater, Film, TV und Populärkultur, Körper- und Gefühlskonzepte in den Kulturwissenschaften, Queer Theory, Postcolonial Studies Masculinity Studies und Intersektionalität.
Ausgewählte Publikationen
The Privilege of Crisis. Narratives of Masculinities in Colonial and Postcolonial Literature, Photography and Film. Frankfurt am Main/New York: Campus, 2011.

Gemeinsam mit Eveline Kilian und Beatrice Michaelis (Hg.). Queer Futures: Reconsidering Ethics, Activism, and the Political. Farnham: Ashgate, 2013.

Gemeinsam mit Beatrice Michaelis und Gabriele Dietze (Hg.). Themenheft der Feministischen Studien: The Queerness of Things Not Queer: Entgrenzungen, Materialitäten, Interventionen (2/2012).

Netzwerk Körper (Hg.). What Can a Body Do? Praktiken und Figurationen des Körpers in den Kulturwissenschaften. Frankfurt am Main/New York: Campus, 2012.

Gemeinsam mit Sven Glawion und Jana Husmann-Kastein (Hg.). Erlöser. Figurationen männlicher Hegemonie. Bielefeld: transcript, 2007.

Gemeinsam mit Beatrice Michaelis (Hg.). Quer durch die Geisteswissenschaften. Perspektiven der Queer Theory. Berlin: Querverlag, 2005.

"Humanism versus Humour: Representing Terrorism after 7/7 in London River and Four Lions." Deconstructing Terrorism. 9/11, 7/7 and Contemporary Culture. Hg. Jürgen Kamm, Jürgen Kramer und Bernd Lenz. Passauer Arbeiten zur Literatur- und Kulturwissenschaft 11. Passau: Verlag Karl Stutz, 2013 (im Druck).

"(M)Other Seacole's Wonderful Adventures: The Politics of Imagining the British Family." Anglistentag 2011: Freiburg. Proceedings. Hg. Monika Fludernik und Benjamin Kohlmann. Trier: WVT, 2012. 339–351.

"The Road to Guantánamo and Taxi to the Dark Side: The Politics of (Social) Death and Rebirth." Birth and Death in British Culture: Liminality, Power, and Performance. Hg. Anette Pankratz, Claus-Ulrich Viol und Ariane de Waal. Newcastle: Cambridge Scholars Publishing, 2012. 67–80.

Gemeinsam mit Beatrice Michaelis und Gabriele Dietze. "'Try Again. Fail Again. Fail Better.' Queer Interdependencies as Corrective Methodologies." Theorizing Intersectionality and Sexuality. Hg. Yvette Taylor, Sally Hines und Mark E. Casey. Basingstoke: Palgrave Macmillan, 2010. 78–98.