Sebastian Lecourt, PhD
Vita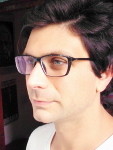 2011 Yale University, Ph.D. in English Language and Literature
2003 Macalester College, B.A. summa cum laude in English
Research concentrations
Nineteenth-century British literature; religion and secularism; world literature and transnationalism; literature and the sciences; the history of literary theory.
Selected Publications
Articles
"Idylls of the Buddh': Buddhist Modernism and Victorian Poetics in Colonial Ceylon." PMLA (forthcoming).
"The Mormons, the Victorians, and the Idea of Greater Britain." Victorian Studies 56.1 (Autumn 2013): 85–111.
"'To surrender himself, in perfectly liberal inquiry': Walter Pater, Many-Sidedness, and the Conversion Novel." Victorian Studies 53.2 (Winter 2011): 231–53.
"Matthew Arnold and Religion's Cosmopolitan Histories." Victorian Literature and Culture 38.2 (September 2010): 467–87.
Reviews
Norman Vance, Bible and Novel: Narrative Authority and the Death of God (Oxford, 2013). Nineteenth-Century Literature (forthcoming).
Kirstie Blair, Form and Faith in Victorian Poetry and Religion (Oxford, 2012). The Wordsworth Circle (forthcoming).
Lene Østermark-Johannson, Walter Pater and the Language of Sculpture (Ashgate, 2011). Victorian Studies 55 (2012): 141–43.
Marjorie Wheeler-Barclay, The Science of Religion in Britain, 1860-1910 (Virginia, 2010). Victorians Institute Journal 40 (2012; online).
Joshua Landy and Michael Saler (eds.), The Re-Enchantment of the World: Secular Magic in a Rational Age (Stanford, 2009). Religion and the Arts 15 (2011): 184–86.
Peter Melville Logan, Victorian Fetishism: Intellectuals and Primitives (SUNY, 2009). Religion and the Arts 14 (2010): 349–52.