Prof. Dr. Stephen Lovell
Vita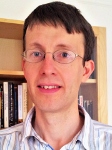 Stephen Lovell studied at King's College, Cambridge and the School of Slavonic and East European Studies, University of London. He was then a postdoctoral fellow at St John's College, Oxford, before taking up a lectureship at King's College London in 2002.
He has worked on a wide range of topics in Russian social and cultural history: reading and print culture; urbanization, exurbanization and everyday life; old age and generations; and radio and modern communications.
Research Concentrations
Russian history, 19th-20th centuries
History of communications
Selected Publications
Books
The Russian Reading Revolution: Print Culture in the Soviet and Post-Soviet Eras (Macmillan, 2000). viii + 215 pp.
Summerfolk: A History of the Dacha, 1710-2000 (Cornell University Press, 2003). xvii + 260 pp.
Destination in Doubt: Russia since 1989 (Zed Books, 2006). vi + 186 pp.
The Soviet Union: A Very Short Introduction (Oxford University Press, 2009). xiii + 151 pp.
The Shadow of War: Russia and the Soviet Union, 1941 to the Present (Wiley-Blackwell, 2010). xviii + 370 pp.
Russia in the Microphone Age: A History of Soviet Radio 1919–1970 (Oxford University Press, 2015).
Edited Books
(co-edited with Alena Ledeneva and Andrei Rogachevskii) Bribery and Blat in Russia: Negotiating Reciprocity from the Middle Ages to the 1990s (Macmillan, 2000). xi + 295 pp.
(co-edited with Catriona Kelly) Russian Literature, Modernism and the Visual Arts (Cambridge University Press, 2000). xiv + 315 pp.
(co-edited with Birgit Menzel) Reading for Entertainment in Contemporary Russia: Post-Soviet Popular Literature in Historical Perspective (Verlag Otto Sagner, 2005). 202 pp.
Generations in Twentieth-Century Europe (Palgrave, 2007). xi + 230 pp.
Recent articles related to current project
'How Russia Learned to Listen: Radio and the Making of Soviet Culture', Kritika: Explorations in Russian and Eurasian History, 12/3, 2011, pp. 591-615.
'Broadcasting Bolshevik: The Radio Voice of Soviet Culture, 1920s-1950s', forthcoming in Journal of Contemporary History, 48/1 (2013).
'Glasnost' in Practice: Public Speaking in the Era of Alexander II', forthcoming in Past and Present, February 2013.