Prof. Dr. Christian Meyer
Vita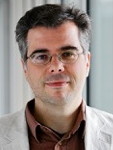 Seit 2016 Professor für Allgemeine Soziologie mit Schwerpunkt Kultursoziologie an der Universität Konstanz
2015–2016 Professor für Spezielle Soziologie und Qualitative Methoden der Sozialforschung an der Universität Würzburg
2014–2015 Professor für Kommunikationswissenschaft mit Schwerpunkt Interpersonale Kommunikation an der Universität Duisburg-Essen
Zuvor Vertretungsprofessuren, Aufenthalte als Gastwissenschaftler und Fellowships an den Universitäten Groningen, Siegen, Hawaii (Manoa), Duisburg-Essen, Halle-Wittenberg, Stockholm (Södertörn), Sankt-Petersburg, Bielefeld, Rom und Siena
2011 Habilitation in Bielefeld
2003 Promotion zum Dr. phil. in Mainz
1998 Magister Artium in Mainz
1992–1998 Studium an den Universitäten Heidelberg, Montpellier und Mainz
Forschungsschwerpunkte
Praxistheorie
Kultursoziologie
Interaktions- und Körpersoziologie
Kommunikations- und Mediensoziologie
Religionssoziologie
Kulturvergleich und kulturelle Differenz
Qualitative Methoden
Ausgewählte Publikationen
Meyer, Christian, Juergen Streeck & J. Scott Jordan, Hg. (2017): Intercorporeality. Emerging Socialities in Interaction. New York: Oxford University Press.
Meyer, Christian & Christian Meier zu Verl (2017): Epistemische Regime der neuen Medien. Eine kultursoziologische Perspektive auf digitale Bildkommunikation. Navigationen - Zeitschrift für Medien- und Kulturwissenschaften 17, 1: 77-94.
Meyer, Christian (2016): Interaktionskrisen oder anthropologische Normalität? Über liminale Interaktionen im 21. Jahrhundert. Österreichische Zeitschrift für Soziologie 41, 1: 75-95.
Meyer, Christian (2015): Grassroots Rhetorics in Times of Scarcity: Debating the 2004 Locust Plague in Northwestern Senegal and the World. In: Culture, Catastrophe, and Rhetoric. The Texture of Political Action. Hg. v. R. Harriman u. R. Cintron. New York: Berghahn. S. 194-219.
Meyer, Christian (2014): "Metaphysik der Anwesenheit". Zur Universalitätsfähigkeit soziologischer Interaktionsbegriffe. Zeitschrift für Soziologie, Sonderheft "Interaktion-Organisation-Gesellschaft revisited. Anwendungen, Erweiterungen, Alternativen" (Hg. v. B. Heintz u. H. Tyrell): 321-45.
Meyer, Christian (2013): New Alterities and Emerging Cultures of Social Interaction. Global Cooperation Research Papers 3. Duisburg: Käte Hamburger Kolleg. Online
Meyer, Christian (2013): Wechselnde Agencies. Virtuelle Akteure in der rituellen Medialität. In: Akteur-Medien-Theorie. Hg. v. T. Thielmann u. E. Schüttpelz. Bielefeld: Transcript. S. 307-337.
Meyer, Christian (2013): Ethnography: Body, communication and cultural practices. In: Body – Language – Communication. Vol. 1. Hg. v. C. Müller, D. McNeill, et al., Berlin: Mouton de Gruyter. S. 227-39.
Ayaß, Ruth & Christian Meyer, Hg. (2012): Sozialität in Slow Motion: Theoretische und empirische Perspektiven. Wiesbaden: Springer VS.
Meyer, Christian & Felix Girke, Hg. (2011): The Rhetorical Emergence of Culture. New York: Berghahn.